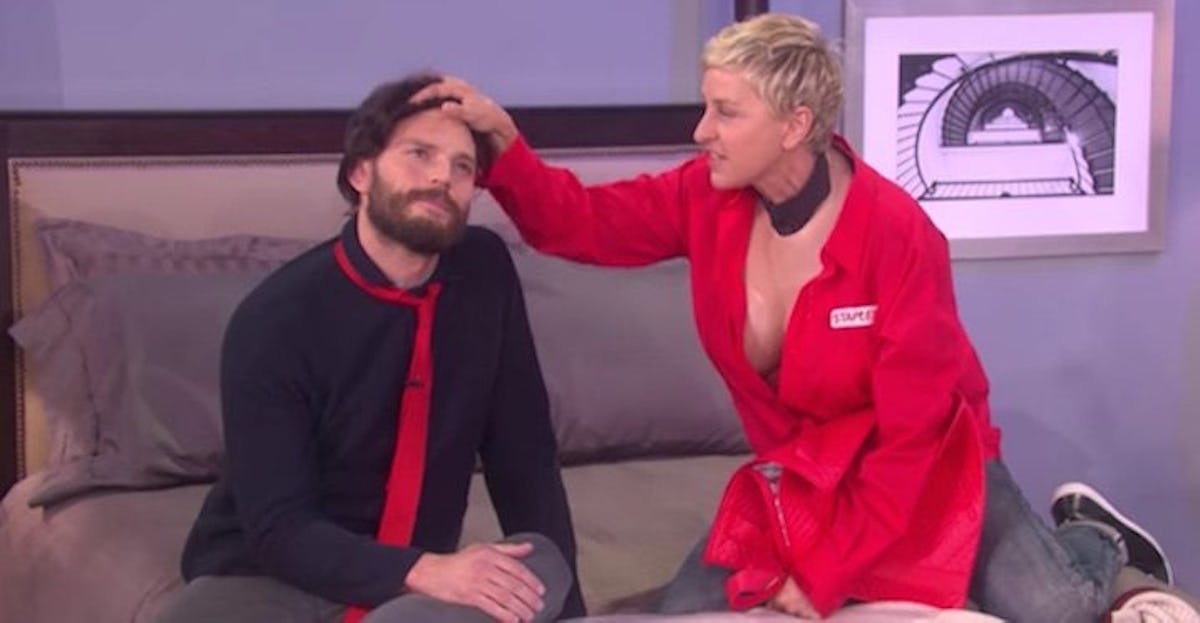 Jamie Dornan And Ellen Use Office Supplies As Sex Toys In '50 Shades' Spoof
YouTube
"Fifty Shades Darker" star Jamie Dornan doesn't know dick about sex toys. Sorry.
The 34-year-old visited "The Ellen DeGeneres Show" on Tuesday to talk about the upcoming sequel to "Fifty Shades of Grey" and admitted he has limited experience with the Red Room's tools.
He told Ellen,
The funny thing is, pretty much everything you find in the Red Room, you've used a version of, but not for the same effect... Like, it's more for riding a horse or something. Or doing up a bag that's particularly full and if you're using a buckle. That kind of thing. So you have the skill set and you kind of surprise yourself. Most of it — I have to admit — I was very green about all that stuff.
Hmm. OK. So, essentially, hardcore sex toys are nothing more than common tools used in everyday situations. Interesting.
Naturally, Ellen ran with this information and asked Jamie to perform a sensual skit using supplies from Staples, like Scotch tape and a stapler, for optimal, hot, doing-it pleasure.
Talk about not safe for work. You're fired. I'm fired. Ellen's fired. We're all fired.
When the daytime host asked whether Jamie brought Red Room props home to use with his wife, Amelia Warner, he told her,
I don't think she wants, like, some used prop… She hasn't told me, so I'm in the dark.
More like LAME-y BOREnan, right, ladies? Yes, just like Lame-y Borenan.
Lame-y did lay down some vague plot spoilers, suggesting fans looking for the same vibe as the original film are in for a change of pace.
He told Ellen,
Christian, he can't foresee his life without Ana [Dakota Johnson], and he's going to do anything to get her back. She wants him to make massive changes, because obviously, he has a few flaws… There are some things about the way he treats her that she really isn't that into. So, he makes big sacrifices for her and compromises in the second movie, because he just knows he needs her.
Cool, that sounds like a selfish enough motive to maintain Christian Grey's darkness, even if he is lame-ing it up on a professional level these days.
Lame-y admitted,
We see a softer side of him, as well. We see him smile a lot more in the second movie. There are a few lighter moments. 'Cause Dakota in the first movie, she gets all the gags... and I'm pretty serious.
Our boy's got jokes this time around and that's what we're all seeing the "Fifty Shades" franchise for: the nuanced humor.
Citations: Jamie Dornan and Ellen DeGeneres Substitute Office Supplies for Sex Toys in Fifty Shades Darkest Spoof (E!)