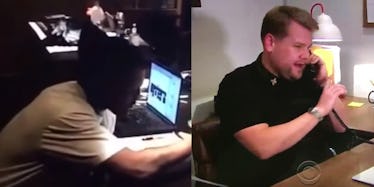 James Corden's Spoof Of The Taylor Swift-Kanye West Phone Call Is Everything
YouTube
The world wide web is so full of Taylor Swift and Kanye West shade right now we've forgotten how funny the whole thing is.
Enter James Corden: Britain's best gift to the States this side of the millennium.
He spoofed the "Famous" call for a skit on "The Late Late Show," and it was everything.
It kicks off with James answering a call from Kanye who says he feels like he "might still have sex" with Taylor. James sarcastically replies he wouldn't bother asking her because she keeps her personal life pretty private.
It's peak Corden -- watch it.
Since you asked, yes, the Kimye-Tay feud is still rumbling on today. With every hour that passes, more and more dirt seems to be dished by fans in both camps.
One of the latest to defend Taylor is her music video director Joseph Kahn. He went on a mega Twitter rant and tried to bury the Kardashians for getting famous through the OJ Simpson case and a sex tape. Classy.
In case you need a breakdown of the other celebrities who have taken sides in this battle, we made you a guide.