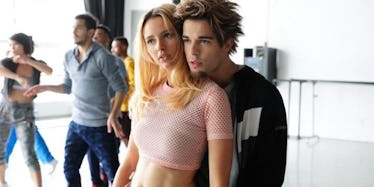 James Corden Savagely Rips Apart Britney Spears' Biopic In Hilarious Review
Lifetime
Take my apartment. Take my job. Take my belongings and my six children. I don't need them anymore.
All I need is James Corden's roast of "Britney Ever After," the Lifetime biopic of Britney Spears.
The late night host caught the TV movie over the weekend and addressed its greatest moments on "The Late Late Show."
He told viewers,
I saw the Lifetime original film 'Britney Ever After,' the Britney Spears story… It was an absolute master class.
James' favorite parts?
Britney's accurate portrayal as a cheese puffs lover.
James reflected,
It's like you're watching a documentary, isn't it? In a world full of fake news I'm just happy to have some truth, and that truth, ladies and gentlemen, is that Britney Spears loves cheese puffs.
Songs Britney never sang.
He said,
The creative masterminds behind the film came up with some Britney songs even Britney didn't know existed. You know the ones I'm talking about: 'If You're Looking For Trouble'… It's amazing for someone to make a song so forgettable, I couldn't sing it to you now. And I heard it four seconds ago.
Stunning representation of boy band *NSYNC.
James explained,
To be clear, that's supposed to be *NSYNC… The Lifetime version of Justin Timberlake maybe didn't look like him, but if you close your eyes, it's like he's in the room.
He continued,
Spoiler alert: Britney and Justin do break up… and they do so in the most poignant and mature way ever… with a dance-off... and it's still hard to say who won. I know who won: anyone who watched it. Because in these troubled times of conflict, the show ended with a powerful message.
The message Corden referred to was a stunning speech by Britney (played by Australian actress Natasha Bassett) that profoundly summed up her experience.
She monologued,
If you had to do it all over again, would you give it up? It's who I AM. It's all I've ever known. I hear the crowd and I want 'em to be happy. I mean -- shoot -- we all deserve to be happy.
Amen, Britney. A- *sniffles* freaking *sobs profusely* -men.
You can watch James' full commentary below.