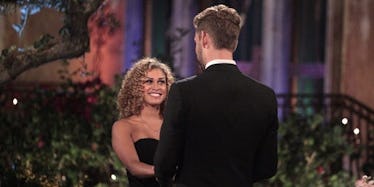 Who Is Jaimi King? 5 Things to Know About The New 'Bachelor In Paradise' Addition
ABC/Rick Rowell
Ah, another week in Paradise, and there are at least two things we can count on: lots of makeout sessions (case in point: last night's episode) and the introduction of at least one new contestant. It's Jaimi King's turn to head to Bachelor In Paradise, and the Season 21 Bachelor contestant looks like she's going to spice things up. But who is Jaimi King? Get to know the gorgeous chef before you tune in.
1. She Was On Nick's Season
Jaimi was on Nick's season of The Bachelor -- she was sent home week six. She made an interesting impression on the audience -- and Nick -- when she remarked "you have some balls and so do I" while introducing herself in the premiere. Alas, she was just referring to her septum piercing. Whatever you have to do to stand out. Unfortunately, she rated Nick's kissing skills a 3 on scale of 1-10. Oof. Better luck in Paradise, Jaimi.
2. She's The First Openly LGBTQ 'Bachelor' Contestant
Jaimi's stint on The Bachelor was a groundbreaking one, as she opened up to Nick about her dating past, revealing she had previously been in a relationship with a girl. This was a first in U.S. Bachelor history. "Jaime is interested in boys and girls," Jasmine notes in the teaser for Bachelor In Paradise's final weeks. "The possibilities are endless here in paradise." We're curious to see who Jaimi hits it off with right off the bat.
3. She's A New Orleans Chef
When she's not competing for love in Bachelor world, Jaimi is an accomplished chef in New Orleans. She even helped cater the Oscars. Dang. Scroll through her Instagram for 5 minutes and you'll get a serious case of #FOMO and end up salivating with hunger. The girl can cook. (And have fun, too.)
4. She's Got Love For Her Bachelor Buddies
It appears Jaimi has stayed tight with her fellow ex-Bachelor ladies, shouting them out on social media regularly.
And like the rest of America, she has great things to say about Rachel Lindsay. She told WGNO's Kenny Lopez:
We shared one of the rooms together in the mansion, and every day she just blew my mind with how amazing, how friendly, how funny, and how genuine she was.
Plus, she often live-tweets Bachelor In Paradise to perfection.
5. She's #Team Peter... and #TeamDean
Either way, we're looking forward to getting to know her better on BIP soon enough.