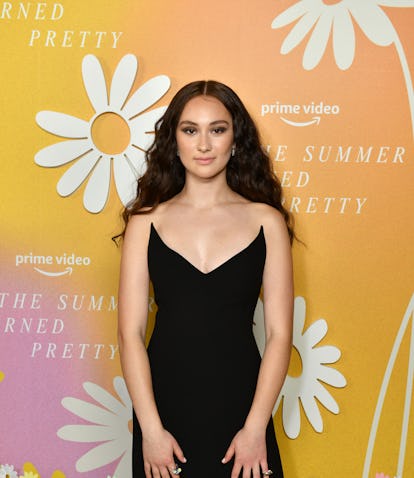 Here's How Lola Tung's IRL Love Life Compares To Belly's
Craig Barritt/Getty Images Entertainment/Getty Images
If you haven't already watched the Prime Video adaptation of Jenny Han's novel The Summer I Turned Pretty in one sitting, where have you been? Kidding! But in all seriousness, this show is pretty un-pause-able. The teen dramedy, which was released on June 17, follows 16-year-old Belly as she navigates her love life in the fictional beach town of Cousins. As she crushes on two of her closest family friends — who just happen to be brothers — major drama ensues. Considering the seriously romantic storylines on the show, fans are eager to know: is Lola Tung single IRL? It looks like it.
The 19-year-old actress got the part of Belly while she was studying as a freshman at Carnegie Melon University, so offscreen, she's been pretty booked. "It was really hard to balance both [school and the show]," she told Glamour in June. The star probably has her pick of A-listers now, but there's no sign of a special someone in her life at the moment. I think it's safe to say she's thriving regardless. TBH, it sounds like it would be tough to fit in a romantic relationship on top of all of her work and school commitments anyway.
And Tung's only getting busier with Season 2 of The Summer I Turned Pretty already in the works. Multiple seasons were green-lit from the get-go, so the actress is already off exploring a slightly older and wiser Belly. As for what romantic moments are in the cards for next season, she told Elite Daily in June, "You [will] get to see the relationships between Belly and the boys develop more." OK, but develop, like, more toward Conrad or Jeremiah... ?
Although it doesn't sound like art is imitating life for Tung, the way she talks about Belly might just hint at her own dating philosophies. During a June 20 episode of MTV's One On One With the Cast, the star gave her take on the hotly-debated "Team Jeremiah vs. Team Conrad" question. Without hesitation, she responded, "I am team Belly. I'm sorry if people get mad at me for that answer. I'm team her journey and her self-discovery and independence. Go Belly." 👏 👏
Although Tung's personal life is still pretty mysterious, at least we can count on seeing how Belly's love life plays out.