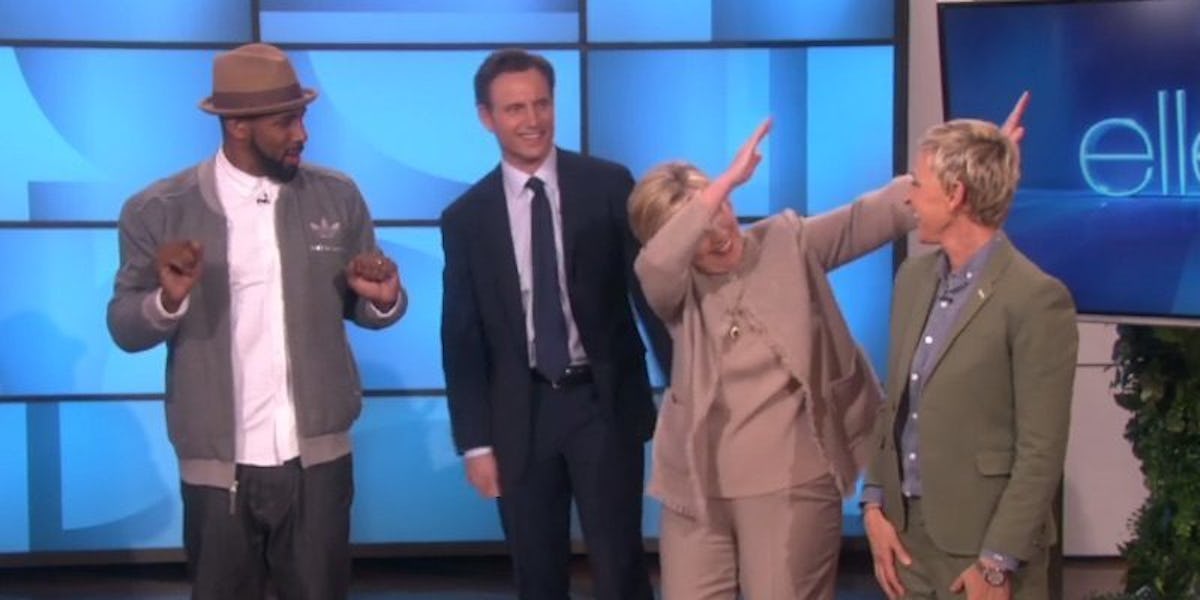 Hillary Clinton Dabs On 'Ellen' And It's As Awkward As You'd Expect (Video)
Rounding out a day of stories about political figures trying to be hip, Hillary Clinton learned to dab on "The Ellen DeGeneres Show" this Monday.
In an altogether awkward scene, Clinton got tips from Stephen "tWitch" Boss on how to dab, along with a bonus move that could serve her well in office, signing a bill.
Clinton is no stranger to showing off her moves on daytime television. Just this past September, she showed the world her Whip and Nae Nae.
Not to be left out, Bernie Sanders unleashed his moves with an adorable remix of grumpy old man meets "Disco Inferno."
This ongoing trend suggests dancing will definitely be a requirement for future presidential candidates.  As it should be.
Watch the video below for a firsthand look at the Secretary of State's dabbing skills. Don't worry, it's short.
.@official_tWitch taught @HillaryClinton how to dab. I think she's finally ready for office. https://t.co/TeoLRpeqNl — Ellen DeGeneres (@TheEllenShow) January 11, 2016
Citations: Chillary Clinton Dabs on 'Ellen' Because Nothing Is Sacred (Complex)