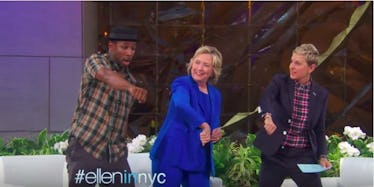 Bill Clinton Has Some Advice For Hillary On Her 'Whip' And 'Nae Nae'
Presidential candidate Hillary Clinton appeared on "The Ellen Show" today to talk politics, her campaign — and to practice her Whip and her Nae Nae.
It goes without saying the clip of Clinton dancing in her pantsuit is already on its way to going viral, but one viewer had some choice words for her performance.
Shortly after the hilarious dance-off, Clinton's husband, Bill — you know, the former POTUS — took to Twitter to comment on his wife's dancing skills.
Mr. Clinton praised his wife's "whip skills," but conceded she "needs with w[ith] her Nae Nae."
The fact that Bill Clinton, who is nearly 70 years old, even gets the reference is hilarious, but the video of Hillary dancing is enough to keep us entertained until the end of 2015.
Check it out, below.
Watch her whip...
But don't watch her Nae Nae.
Watching @TheEllenShow. @HillaryClinton looks good w her Whip skills, but needs work w her NaeNae. May require more lessons @official_tWitch — Bill Clinton (@billclinton) September 10, 2015