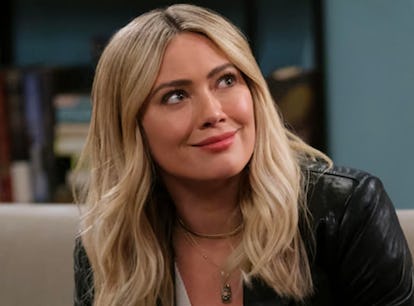 Hilary Duff Expertly Trolled A Hater After HIMYF Got Canceled
Hilary Duff isn't holding back after Hulu gave her series How I Met Your Father the ax. Shortly after the cancellation was announced, Duff noticed a rude commenter who was celebrating the end of her "cringe" show. Naturally, the actor had to put the troll in their place, and fired back with a comment of her own.
Variety reported on Sept. 1 that Hulu did not pick up a third season of How I Met Your Father, the How I Met Your Mother reboot starring Duff as the unlucky-in-love Sophie. The announcement arrived about two months after the show's second season had finished airing, ending on a revelation about at least one couple's fate in the future. But sadly, because of the unexpected cancellation, the series will never be able to fulfill its title's mission and reveal who the father of Sophie's son really is.
The abrupt, unfinished conclusion led many fans to mourn that the central mystery would never be answered. The comments section under Variety's Instagram post of the cancellation announcement was flooded with unsatisfied fans sharing their frustrations and theories. But of course, not all the comments were so supportive. One commenter called the series "cringe" and implied it never should have been made in the first place.
"Tried to watch it... it was so cringe," the comment read. "Who thought this would ever be a good idea? Everything was done in the original, they covered it all."
Duff saw the degrading remark, and decided to let the hater know exactly what she thought of them. "You have 63 followers," she simply wrote, adding a blushing smiley face emoji for emphasis.
In the day since the cancellation, Duff has yet to react aside from this solitary comment.
It's clear the How I Met Your Father team had been planning to continue their series. The HIMYM sequel series had already brought back two of the original show's main stars for meaningful cameos, and the rest of the HIMYM actors had hinted that they could be popping up next. And of course, the series still had not answered the question of whom Sophie ends up with. Hopefully, Duff can fill the fans in on that with her next IG comment.