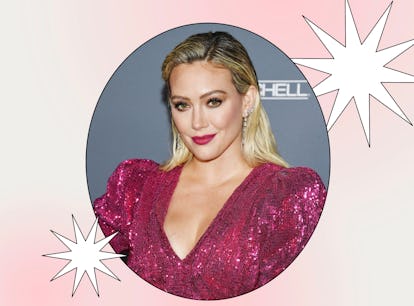 Hilary Duff Isn't Sure We've Met The Father Yet
"They're not going to make it easy for us to guess."
Jon Kopaloff/FilmMagic/Getty Images
Unlike most childhood stars, Hilary Duff has never had a comeback. She's been in the zeitgeist ever since she rose to fame at age 11. From Lizzie McGuire to A Cinderella Story, Duff's resume is certifiably iconic. And with Hulu's How I Met Your Father Season 2 in full swing, Duff, 35, proves her It factor hasn't diminished.
That's why, while Season 2 is airing, the actor is taking a well-deserved break. "Right now, I'm just breathing with my family," she tells Elite Daily. "Actually, it's busier than ever being a full-time mom, but I really need some downtime after shooting that big season."
The show follows Sophie, played by Duff, as she navigates the trials and tribulations (and fun) of dating in New York City, along the way to meeting her son's father. The premise flips the plot of How I Met Your Mother — and there are just as many purposefully cringey moments in the remake as the original.
Unlike her character Sophie, Duff's life seems put-together. She's acting, raising three kids, and currently partnering on a campaign with Planet Oat and Girl Scouts. ("When this partnership came along, I was like, 'Oh my God, yes,'" she says — she's part of a proud oat milk and cookie household.)
Below, Duff gives Elite Daily the lowdown on How I Met Your Father Season 2, the dating advice she wishes Sophie would take, and how she feels about '90s and '00s nostalgia.
Elite Daily: In How I Met Your Father, Sophie is a bit of a hopeless romantic. Do you relate to that element of her character?
Hilary Duff: My husband's a little bit more of the romantic with gestures and stuff. But I'm very warm and fuzzy when I have enough time away from the kids to accept it and be cute and cuddly. One thing that I relate to about Sophie is that she's very optimistic about love, and I've always kind of felt that way.
ED: There have been some fun meet-cutes in the show so far. Which was your favorite?
HD: My favorite meet-cute isn't out yet. It's coming. Sophie has a fling with an older gentleman, played by John Corbett, and I really love the way we meet.
ED: If you could, what dating advice would you give Sophie?
HD: I would tell her to be more bold. Obviously, she still is kind of pining after Jesse [played by Chris Lowell].
I think a lot of her issues stem from her parents, and she has some work to do there. So even though she can't afford therapy, I'd be like, "Girl, we've got to talk about some of this past stuff in order for you to move forward." But then we might not have a TV show on the air. We're going to have to watch her suffer for a little longer.
ED: Are you rooting for anyone in particular to be the father of Sophie's son?
HD: I don't know if we've met him yet. Our writers are very clever; they're never going to make it easy for us to guess.
In the first episode, my character says, "I met your dad this night. He was in the room." But I don't think we've necessarily seen all the angles of that room in the flashback. Our creators come from This Is Us, so they're genius with timeline play.
I'm kind of rooting for Josh Peck, who plays Drew. He's wonderful to work with. I think because we have both children and were child stars, we have a really nice connection.
ED: Is your husband shipping your character with anyone?
HD: I actually don't know. Maybe the obvious choice is Jesse. I don't think they're going to choose him as the father, but I think we have to watch his and Sophie's connection evolve into something really real. That's what everybody wants.
My husband thinks Sid [played by Suraj Sharma] is definitely a runner-up. There's a lot of internet speculation about that. Obviously, in the show, Sid is married. So, we have to play it in a way that keeps the door open without being a creep, to keep you guessing, "Is there a spark?" When Sophie and Sid do have moments together, we walk a fine line. Sometimes, it's tricky.
ED: How do you feel about Kim Cattrall playing your older self? Have you been able to spend any time together?
HD: I really love Kim. I don't get to work with her that much since she does all of her stuff on different days than I do, but I try to go visit her when she's shooting.
One thing I love about the show is that everybody would love to peer into the window of their older self. Like, "Hey, we made good choices and we did all right." I can't wait to tell my kids stories about myself when they're old enough to handle them — being able to say, "Hey, guess what? I was a human being. Your mom messed up and did crazy things with her friends." Right now, Sophie is definitely in that stage. She's just not landing on both feet every time she tries. But you have that comfort of knowing that whatever she did, she did something right, because Kim's telling the story in this beautiful home, in a cashmere sweater, drinking her wine.
ED: Nostalgia is in right now. If you could pick any of your past projects for people to start obsessing over, which would it be?
HD: This is going to sound so rude, but I feel like any given week, someone's obsessing about one moment from this movie or that movie. It's all happened. I'm not trying to make it happen.
And I'm not really on TikTok that much, so it all gets sent to me. But it'll be like, this line from A Cinderella Story that everyone's having a moment with, or of course, "What Dreams Are Made Of." I obviously had no idea when I was doing those projects that people were going to revisit them 20 years later and I was still going to have a career. Sometimes I'm like, "Please, let's not dig this all up. Please, please." And other times I laugh and can be a part of it.
ED: Speaking of nostalgia, you told Cosmopolitan that your daughter Banks loves listening to your older music, especially on car rides. What's her favorite song of yours?
HD: She loves "Wake Up." She's not really into my rock girl phase. She wants more of the pop. I'm honestly so tired of listening to them, so I'll try to sneak another artist in, and she'll be like, "That is not you."
This interview has been condensed and edited for clarity.