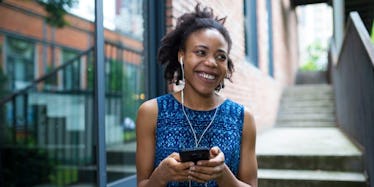 9 Hilarious Podcasts To Make You Feel Better About Being A Terrible Adult
Bo Bo
Unfortunately, there's no 12-step program for people who suck at everything.
The good news is, there's probably a hilarious podcast out there that will make you feel better about the part of life you suck at most.
And if a podcast is really going make you feel better, it needs to be funny.
So, we've scoured the interweb to find these eight hilarious podcasts to make you feel less shitty about your fumbling and incompetent struggle through this wacky roller coaster we call life.
Here are nine podcasts you need to listen to ASAP:
Show description:
They spread their legs, now they're spreading the word that women should be able to have sex with WHOEVER they want WHENEVER they want and not be ashamed or called sluts or whores. Welcome to a new revolution. Each week, Corinne Fisher & Krystyna Hutchinson (together known as the comedy duo Sorry About Last Night) interview a gentleman they slept with. Some they made love to, some they had sex with a few times and some they f****d in a hotel bathroom...er, what? Corinne & Krystyna want to make the world a more sex-positive place...one candid story of intercourse at a time.
Show description:
Comedians Mike Albanese, Chris Scopo and Alex Pavone are grown men living together in a 500 square foot New York City apartment. They congregate together once a week in Chris' room, laughingly referred to as "The Suite" and record this podcast, which is sure to make you feel better about whatever life choices you've made. New episodes of general nonsense, rambling and the three buddies making fun of each other are released every Thursday morning!
Show description:
Have you ever eaten frosting out of the can? Hidden empty pizza boxes under your bed? Fat Pig is fall-off -the-bone funny comedians Jessica Kirson and Frank Liotti, talking about food addiction, closet eating, binging, diets, shame, fat camp and cake. Sometimes touching, often bizarre, always hilarious, Fat Pig is a wild ride from start to finish, diving in and pigging out on America's biggest addiction, food.
Show description:
In each episode, comedians and real-life couple Giulia Rozzi and Will Miles welcome another couple onto the show to have an honest, humorous and thought-provoking conversation about love, relationships and how to make it all work.
Show description:
A show about clinical depression... with laughs? Well, yeah. Depression is an incredibly common and isolating disease experienced by millions, yet often stigmatized by society. The Hilarious World of Depression is a series of frank, moving, and, yes, funny conversations with top comedians who have dealt with this disease, hosted by veteran humorist and public radio host John Moe. Join guests such as Maria Bamford, Paul F. Tompkins, Andy Richter, and Jen Kirkman to learn how they've dealt with depression and managed to laugh along the way...
Show description:
Comedians Mara Marek, who has been divorced 3 times, engaged 7 and Andrew Collin, who is a child of divorce and single for 142 months, invite fellow divorcees and guests who have been negatively affected by divorce to share their stories to help listeners find laughter on the other side. The podcast has welcomed guests including 'New York Times' best-selling author Peter Shankman and actor Langston Kerman from HBO's hit show "Insecure."
Show description:
Nathan Macintosh has noticed throughout his life that anger is the only emotion that is not accepted. If you're sad, people help you through it. If you're happy, that's great! If you're angry, people say stop being angry, but anger gets things done! 'Positive Anger' showcases that. From positively being mad about expensive schools to being livid about movie trailers, Nathan proves anger has merit. Oh, and is funny. This is also funny.
Show description:
The Hot Mess Comedy Hour is hosted by Andrea Allan and Emily Lubin, two blossoming comedians and world-class train wrecks. In each episode, they dive into the psyches of some of New York City's messiest performers. Each guest comes equipped with their own baggage, whether it be a dark past, addiction, or neurosis. Andrea and Emily go head-to-head with your inner demons so that you don't have to!
Show Description:
NYC breakout comedian, Tim Dillon is going to Hell. He's bringing with him his friend and comedian Ray Kump. Together, they will defend the CEOs, dictators, con artists, thieves, tax cheats, & crime families that make this world worth living in. Join them Tuesdays at 7 pm ET on gasdigitalnetwork.com. The newest 10 episodes are always free, but if you want access to all the archives, watch live, chat live, access to the forums, and get the show a week before it comes out everywhere else - you can subscribe at gasdigitalnetwork.com and use the code HELL to save 15% on the entire network.
There you have it: absolute proof that whether you're struggling with being single, hating the fact that you're attached, living in a shoebox with six roommates, going through a divorce or dealing with food addiction, your anger problems or just overall hot-messery, you are not alone.
While you may or may not be looking for a reason to feel better about yourself, I would strongly suggest subscribing to each of the above just because of their overall ability to show that life — while challenging — is really not all that serious.
Besides, Trump is president now.
We're going to need to start laughing at ourselves.