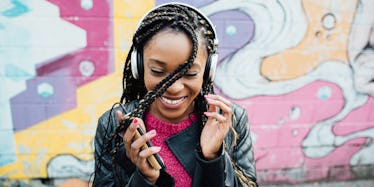 8 Smart Podcasts That Will Break Up Your Winter Of Binge-Watching
"I don't have time for it." That's the excuse I hear most often when I ask people if they listen to podcasts.
But, you actually do. You just haven't realized it yet.
Take your morning or evening commutes, for example. Instead of thinking about the rage-inducing traffic, all the work you didn't get done or how you really hate that certain annoying co-worker, you could put on an awesome podcast instead. You can also listen while you're in the bathtub, taking a walk, doing your makeup or cooking.
See? You do have time for podcasts. Here are eight of the best podcasts out there that will make you laugh, teach you something awesome or inspire and motivate you:
1. "Invisibilia"
"Invisibilia" (Latin for all the invisible things) is about the invisible forces that control human behavior — ideas, beliefs, assumptions and emotions — and it's one of the best podcasts I've ever listened to. Every episode, from the one about the real-life cyborg to the one about the blind man who can see, is enthralling from beginning to end.
2. "Grammar Girl"
You don't have to be a writer or a grammar nerd to enjoy this podcast. "Grammar Girl" (Mignon Fogarty) talks about common grammar issues that plague us all, from when to use "less" or "fewer" to silly topics like if you need to capitalize "the Force" from "Star Wars."
Plus, if you find the topic of one episode boring, you can skip it and move on to the next since there's no story line to follow. This is one of the best podcasts to listen to if you want to improve your in-person and written communications.
3. "Call Your Girlfriend"
For long-distance besties everywhere, "Call Your Girlfriend" is hosted by two IRL BFFs, Ann Friedman and Aminatou Sow. The podcast is smart, funny and interesting (like the two co-hosts), and topics range from politics and sex to female empowerment and jeggings.
4. "Welcome To Night Vale"
This podcast is weird, witty, hilarious and fun. It's about a fictional town, Night Vale, where literally anything can happen.
For example, at one point, a "Glow Cloud," a cloud that rains various small creatures — such as lizards and crows — and smells faintly of vanilla, descends upon the town. The writing is incredibly clever, and the narrator, Cecil, will crack you up every time you listen.
5. "Women Of The Hour"
Hosted by Lena Dunham and produced by BuzzFeed, this podcast features conversations with women about love, sex, work, bodies, friendship and more. If you want to be inspired by amazing, successful women (like Emma Stone and Jemima Kirke) and women you haven't heard of before (like the outstanding Mindie Lind, a musician and singer who was born with no legs, but still rides a skateboard), then this one is a must-listen.
6. "LadyGang"
You know how you love brunches with your besties? Especially the ones that offer bottomless mimosas?
Well, that's what this celebrity-driven podcast was inspired by. Each week, a celebrity joins the hosts (Keltie Knight, Jac Vanek and Becca Tobin) to discuss what Hollywood is really like. "LadyGang" is funny, honest and interesting.
7. "Serial"
You've probably heard people talking about "Serial" (a podcast that explores true-crime mysteries) since it's one of the more popular and well-known podcasts out there. But even if you haven't, you'll definitely find the suspenseful "Serial" so interesting and addicting (season one specifically) that you'll actually look forward to your daily commute so you can give it a listen.
8. "Guys We F****d"
This podcast is described as the "anti slut-shaming podcast," and it lives up to its name in every way. The podcast hosts, Corinne Fisher and Krystyna Hutchinson, talk about sex in an unapologetic, honest and raunchy way. Basically, it's how you and your best friends talk about sex when no one else is around.
What do you think the best podcasts are?
This article was originally published on The Local Lifestyle.