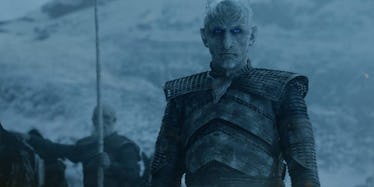 Here's What The Night King From 'GOT' Looks Like In Real Life
courtesy of HBO
Prepare for some of your nightmares to subside, GOT fans. It's undeniable that the Night King is truly one of the most horrifying villains to ever grace TV screens, but without all that pesky, horrid makeup... he's not so scary. If you've been wondering what The Night King on Game of Thrones actually looks like in real life, feast your eyes on his unmasked photo below. See? Not horrifying. The Night King is portrayed by stuntman extraordinaire Vladimír "Furdo" Furdík, who has appeared in dozens of GOT episodes, although his face is usually hidden.
Even if you can't always see him, Furdík has quite the impressive resume and has used his stuntin' skills in huge movies like Thor: The Dark World, The Huntsman: Winter's War, and John Carter. He can even call himself a SAG Award winner. He and the GOT team picked one up for Outstanding Action Performance by a Stunt Ensemble in a Comedy or Drama Series. Of course they did.
You may also not have noticed that GOT pulled an Aunt Viv and switched up the actors who portrayed him. The role was originally played by actor Richard Brake before Vladimír took over. The more you know. Here's his OG version for all your comparing needs.
This leads to the age-old question: Who wore it best? Or in this case, who scares the living daylights out of you more? Survey says: They're both petrifying.
Another question on some theorists minds: How closely related are Bran and the Night King, really? There's always the argument that they are one in the same. While you ponder that crazy thought and all the many other unanswered GOT questions on your mind, at least you can sleep a little sounder knowing what the leader of the White Walkers looks like when he's not haunting our televisions.