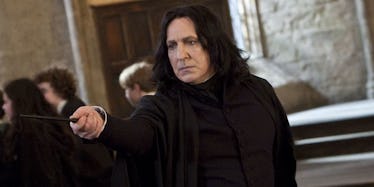 Emma Watson, Daniel Radcliffe And 'HP' Cast React To Alan Rickman's Death
Warner Bros. Pictures
The Wizarding World and the muggle world lost a great man today.
JK Rowling posted a moving tweet earlier today, and other "Harry Potter" costars are also sharing their grief over the loss of Alan Rickman, the man who brought endless magic to Professor Severus Snape.
So many of these young actors grew up on the set of "Harry Potter" and got to learn and be inspired by Alan Rickman, a classically trained and renowned actor of both the screen and stage.
They spent nearly a decade under his example and that makes their reactions all the more emotional.
Daniel Radcliffe wrote an incredibly moving message for his friend and mentor over the years and shared it on Google+.
Emma Watson posted her condolences on Facebook and Twitter this morning.
I'm very sad to hear about Alan today. I feel so lucky to have worked and spent time with such a special man and actor. I'll really miss our conversations. RIP Alan. We love you Posted by Emma Watson on Thursday, January 14, 2016
Matthew Lewis, who played Neville Longbottom in the films, shared memories with Alan on his Instagram, and it is absolutely heartbreaking.
Bonnie Wright, who plays Ginny Weasley, also shared a moving photo of the icon.
The Phelps brothers, aka Fred and George Weasley, tweeted their condolences.
Devon Murray, aka Seamus Finnigan, tweeted his grief.
Afshan Azad, who played Padma Patil, also tweeted her memories with Alan.
Viktor Krum, played by Stanislav Ianevski, tweeted his reaction.
Warwick Davis, actor behind the Gringotts goblin Griphook as well as Professor Flitwick, also shared his grief.
And Evanna Lynch, who played Luna Lovegood, had the sweetest comment on Alan's Snape.