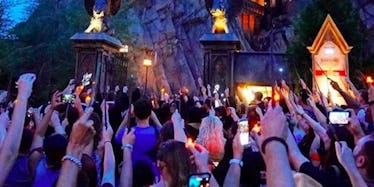 'Harry Potter' Fans Honor A Victim Of The Orlando Shooting In An Amazing Way
The world continues to mourn the 49 victims who were killed in the horrific shooting in Orlando on Sunday. At the Universal Studios Wizarding World specifically, one victim in particular is being honored.
Luis Vielma was only 22 years old when he was killed at Orlando's Pulse nightclub early Sunday morning. By day, Luis worked at the "Harry Potter And The Forbidden Journey" ride inside the Hogwarts castle at the Universal theme park.
On Monday night, hundreds of Universal Studios workers – as well as Potter fans – stood outside the castle and raised their wands (and cell phones) in order to pay tribute to their fallen friend.
Earlier that day, JK Rowling shared a picture of the late Universal Studios worker on Twitter, expressing her deep grief at his death.
Luis's co-workers also placed candles along the line to the ride in his honor.
The entire staff of the castle showed support and love. This was met with even more support from staff members from other parts of the park.
Wizards and muggles at The Wizarding World in Los Angeles also raised their wands in support of their Orlando team.
Meanwhile, Tony, another staffer at The Wizarding World who was injured during the shooting, is recovering and currently accepting visitors at the hospital. He is hoping to make it on "The Ellen DeGeneres Show."
RIP, Luis. Here's hoping that Tony finds the magic to make a full recovery.
Citations: This Hogwarts Tribute to the Orlando Shooting Victim Who Worked There is Guaranteed to Make You Cry (Cosmopolitan)