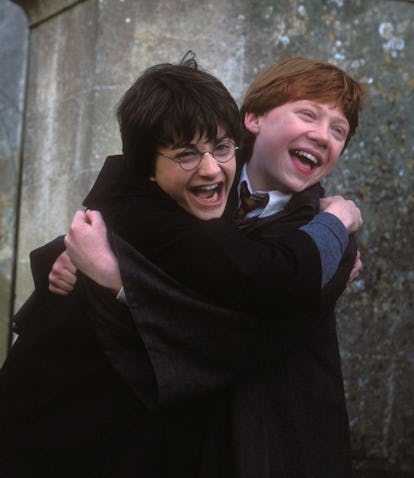 These Harry Potter Behind-The-Scenes Movie Facts Are So Magical
It's like watching the films for the first time again.
Warner Bros. Pictures
The world of Harry Potter is full of magical secrets and intricate details, but some of the most shocking and intriguing stories actually happened behind the scenes of it all, while adapting J. K. Rowling's hit book series into an iconic film franchise. From story adjustments to casting decisions that would have changed everything, these Harry Potter movie facts will have every superfan seeing the films in a whole new light on their next rewatch.
The world first experienced Harry Potter mania when Rowling published Harry Potter and the Sorcerer's Stone in 1997. The first book captivated readers of all ages, and it kicked off a novel series that became the hallmark of popularity in the young-adult fantasy genre. In 2000, the fandom reached a completely new level when Warner Brothers began a film series adapting the saga. Rowling's story continued through the seventh book, Harry Potter and the Deathly Hallows, which hit shelves in 2007, and the movies finally concluded a few years later when the second half of the Deathly Hallows adaptation hit theaters in 2011.
It would be hard to overstate just how huge of an impact Harry Potter has had on the entertainment industry, as it has been hailed for legitimizing a passion for YA books and laying the groundwork for massive teen movie sagas like Twilight and The Hunger Games to dominate the box office in its wake. But the real magic came from the little-known facts about how these hit movies came to be.
This article was originally published on