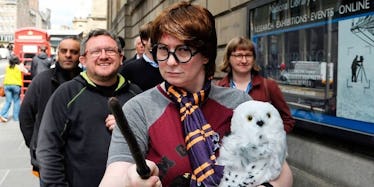 'Harry Potter' Fans Have Taken Over Twitter & King's Cross In Honor Of "19 Years Later"
NEIL HANNA/AFP/Getty Images
I feel sorry for any Muggles that use King's Cross Station for their commute, because today is not going to be your day, friends. Why? Because the station is currently flooded with hundreds of Harry Potter fans, all waiting to catch a glimpse of Albus Severus Potter board the Hogwarts Express for his first day of school. Today — September 1, 2017 — is the day the Deathly Hallows epilogue takes place, "19 years later." And not gonna lie — seeing all the photos of fans at Kings Cross and tweets about Harry Potter "19 years later" is making me feel all kinds of things.
In case you need a refresher, though Harry Potter and the Deathly Hallows came out 10 years ago in 2007, the actual events of the book take place in 1998. Therefore, when the epilogue takes place on Albus Severus Potter's first day of Hogwarts, "19 years later," that day is September 1, 2017. JK Rowling tweeted out on Friday morning,
Today's the day Albus Severus Potter boards the Hogwarts Express at King's Cross for the first time #19yearslater
Fans from all over the world flew to London to attend today's event at platform 9 ¾ at 11 a.m. in King's Cross, dressed in robes and wands. Spread out across every corner of the station, they counted down the minutes to 11 a.m. — the time the Hogwarts Express leaves the station.
Even Professor Flitwick, AKA actor Warwick Davis was there on the platform with the fans!
The official hashtag for the event is "19 years later," and it's even got its own official Twitter emoji  — a tiny Hogwarts Express.
For those of us who couldn't afford a ticket to London (or Hogwarts), we'll just have to imagine we're with Harry, Ron, and Hermione from afar on this crisp, fall day. (BTW, how the heck did JK Rowling predict the weather for today?!)
Of course, the epilogue takes on a whole new meaning now there's Harry Potter and the Cursed Child, which is all about Albus Severus Potter's own adventures at Hogwarts, and starts immediately after the "19 years later" epilogue.
But let us not speak of that mess now. Have a great first day at Hogwarts, Albus! And do try not to use any Time-Turners while you're there.