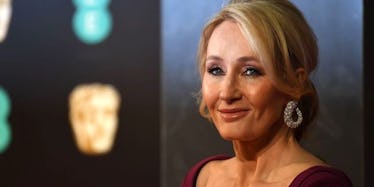 J.K. Rowling's "19 Years Later" Day Tweet Is Making 'Harry Potter' Fans Cry
JUSTIN TALLIS/AFP/Getty Images
To Muggles, September 1, 2017 may be just another day. But all my witches, wizards, and non-gender-conforming magical folk out there know the significance of this day: It's the day a 37-year-old Harry Potter took his 11-year-old son, Albus Severus, to King's Cross station to board the Hogwarts Express for the first time. AKA, today is "19 years later" day, and Harry Potter author J.K. Rowling's "19 Years Later" tweet is giving fans all the feels.
Though the seventh book came out July 2007, the final battle at Hogwarts took place in 1998. And, if you're good at mental math, or if you're a huge nerd like me who wrote it down in Google Calendar ten years ago, that means the Deathly Hallows epilogue, "19 Years Later," takes place on September 1, 2017 (today!). Somewhere in Kings Cross Station in London, Harry, Ginny, Ron, Hermione and all the little magical children are living their happily ever after.
And if you don't believe me, take it from mother/queen J.K. Rowling, who tweeted on Friday morning,
Today's the day Albus Severus Potter boards the Hogwarts Express at King's Cross for the first time #19yearslater
There's even a little official, Twitter-approved Hogwarts Express icon for the hashtag "19 years later." How magical is that?
And then Rowling really hit us in the feels by retweeting an old tweet of hers that read,
All these people saying they never got their Hogwarts letter: you got the letter. You went to Hogwarts. We were all there together.
Oh, OK, cool, I just spend my morning crying then. It's not like I needed to get work done or anything.
And just to make you laugh through your tears, Rowling also acknowledged that today is the day Teddy Lupin and Victoire Weasley were caught snogging. (Rowling asked us to please give them their privacy.)
Just as I'm sure J.K. Rowling intended, the fans in her mentions immediately started feeling all the feels. (How have we come this far?)
Dang it, Jo! You've been making us cry for twenty years now. Will this ever end? (Please say no.)