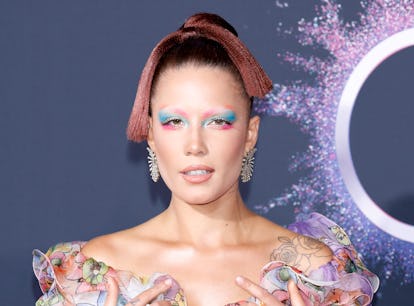 Prepare To Melt! Halsey Shared The First Adorable Photo Of Baby Ender's Face
Well, half of it, at least.
Kurt Krieger - Corbis/Corbis Entertainment/Getty Images
The first photo of baby Ender is here and it will leave your heart in a puddle. Halsey and boyfriend Alev Aydin welcomed their first child on July 14, and fans have been waiting to catch a glimpse of the little one. Now, the first photo is finally here and it is the sweetest. Sure, it only showed part of the baby's face, but it was enough to melt hearts everywhere.
Halsey has shared several photos of baby Ender since their arrival, including a photo from the hospital and another one in honor of #worldbreastfeedingweek. But neither of the images gave a good look at the baby's face. Now, fans are finally getting better acquainted with the baby. Halsey shared a slideshow of memories from the past few months to Instagram on Aug. 8 and several snapshots from the slideshow included baby Ender.
The first photo showed off Ender's bedroom wall, which was filled with artwork and a personalized sign. Next up was an adorable photo of Ender stretching in bed. It may not have featured their full face, but it was evident they're as cute as a button. All in all, the slideshow showcased Halsey's new life as a parent. "Well….this is what it look like," Halsey captioned the post.
You can see the slideshow for yourself below.
Halsey first announced her pregnancy in late January. "Surprise!" she wrote, when sharing a photo of their growing baby belly. Two months later, they took to Instagram to defend themself against trolls who said her pregnancy was accidental.
"Why is it ok to speculate and pass judgement about fertility and conception?" Halsey wrote on her IG story. "My pregnancy was 100% planned, and I tried very hard for this bb."
Halsey has also been transparent about fertility issues she faced along the way. She previously revealed she froze her eggs, and in a February 2020 interview with The Guardian, she explained how much of a toll the fertility issues took on her.
"It's the most inadequate I've ever felt," she said. "Here I am achieving this out-of-control life, and I can't do the one thing I'm biologically put on this earth to do."
Given everything they've been through, it's so sweet to see Halsey welcome a happy and healthy baby. Fans can only hope to see more adorable pics to come.