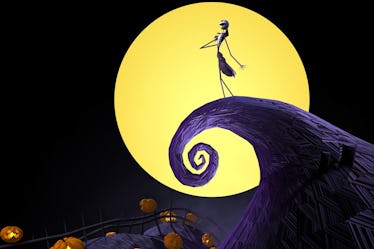 There Are So Many Classic Halloween Movies To Stream On Disney+ Right Now
Disney
Halloween is one of the biggest American holidays on the calendar. It's a day to dress up, run around in the dark, see the neighbors, and hand out candy to smiling children. It's also an excuse to start streaming Halloween movies, and for those looking for stuff that appeals to all age groups, the safest option is to stick to Disney Halloween movies, which are spooky without being nightmare fuel. These Halloween movies on Disney+ are one way to keep the Halloween spirit going at home all month long.
Most people don't think of scary or spooky when they think of Disney. The House of Mouse provides plenty of fodder for costumes, from Star Wars to Marvel to Disney princesses. But the PG nature of the Disney brand causes many viewers to write it off when looking for festive movies to watch this time of year.
But one look at Disney+'s lineup will prove this false. Disney happens to have some of the best Halloween films ever made, including several Touchstone Pictures classics. The Disney Channel has also spent decades creating Halloween films for all ages. The result is that Disney+ has one of the most expansive movie lineups for families looking for at-home ways to celebrate this Halloween.
Don't have Disney+ yet? You can sign up here.
This article was originally published on