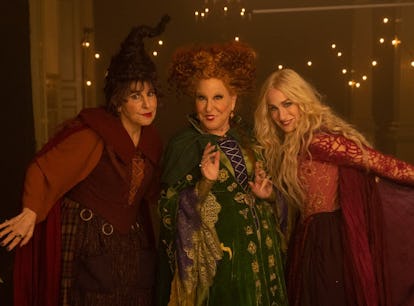 Here's Everything To Know About Hocus Pocus 2 Before It Flies Onto Disney+
Something wicked this way comes.
Walt Disney Pictures
The original Hocus Pocus was technically a theatrical flop when it debuted in the 1990s. But time and distance (and repeated viewings every Halloween on the Disney Channel and Disney+) have morphed it into a timeless classic. Now, Disney+ is making a sequel: Hocus Pocus 2. So, let's run down everything known about the project so far.
Even before Disney+ launched, the rumors about a potential Hocus Pocus 2 have been swirling. The streaming service was initially launched by focusing on newer franchises like Star Wars and the Marvel Cinematic Universe. But the potential to start mining older beloved films in the studio's vast library was always in the cards. It was just a matter of how, when, and if any of the original stars — namely, Bette Midler, Sarah Jessica Parker, and Kathy Najimy — would be back.
The actors have expressed interest in coming back for another movie multiple times. But even so, fans had to wait and see if it would come to fruition. Finally, on May 20, 2021, Disney+ announced that the stars had aligned, and the Sanderson sisters would return to modern-day Salem once more. Whoever lit the black flame candle deserves a massive round of applause and a lot of Halloween candy.
Hocus Pocus 2 Trailer
The first trailer for Hocus Pocus 2 arrived on June 28, 2022, introducing the new teens of Salem who accidentally free the Sanderson sisters on Halloween. Not to worry, though; as Winnie says, they'll be having their usual, while the rest of us will have a whole lot of fun.
The official full-length trailer finally dropped on Sept. 9, revealing that the sequel will provide a more in-depth look at how the Sanderson Sisters first became witches 370 years ago. When two young girls light the Black Flame Candle in an attempt to become witches themselves on their sixteenth birthday, the sisters return to run amok on Salem.
There are also several teasers that debuted on IG in the run-up to the film's release.
Hocus Pocus 2 Logo Teaser
The first teaser for Hocus Pocus 2 was a triple reveal of the movie's logo on the Instagram accounts of Bette Midler, Sarah Jessica Parker, and Kathy Najimy. Each gave their spin on the return with different captions, with Parker's reading, "Yep. I'm ready. To run. Amok, amok, amok, amok," while Najimy's said: "The people have spoken: I smell children...again."
Hocus Pocus 2 Cast
All three Sanderson actors are returning for the new sequel; Midler, Parker, and Najimy confirm they will return. Doug Jones will also return, reprising his role as Billy Butcherson.
According to Entertainment Weekly, Thora Birch was offered a role as Adult Dani, mentoring the new teen cast in taking down the Sanderson Sisters. But reportedly, she declined due to scheduling conflicts. Omri Katz also confirmed he will not return as Adult Max.
As for the rest of the sequel's cast, Disney+ tweeted out a list of all the buzzy stars who will face off against the Sanderson sisters. Whitney Peak (Gossip Girl), Lilia Buckingham (Zoe Valentine), and Belissa Escobedo (American Horror Stories) star as the three lead teens who take on the witchy trio. Tony Hale (Arrested Development) plays Salem's new mayor. Juju Brener (Vanquish), Taylor Henderson (Earwig and the Witch), and newcomer Nina Kitchen will play young versions of the Sanderson sisters.
Also, RuPaul's Drag Race star Ginger Minj will play a version of Bette Midler's Winnie in drag, natch. But Ginger's not the only one from the Drag Race family joining the Hocus Pocus family. A few days after Ginger's announcement, Entertainment Weekly revealed that Kornbread "The Snack" Jeté and Kahmora Hall will also be in the new movie. They will be playing Mary and Sarah Sanderson, with Kornbread taking on Kathy Najimy's Mary and Kahmora Hall playing Sarah Jessica Parker's Sarah.
Other cast members include Hannah Waddingham (Ted Lasso) as a powerful witch who gave the Sanderson Sisters their powers, Sam Richardson (I Think You Should Leave) as the magic shop owner Gilbert, and Froy Gutierrez (Cruel Summer) as Lilia Buckingham's character's boyfriend Mike.
Hocus Pocus 2 Filming Updates
Although Hocus Pocus 2 was announced in the summer of 2021, lining up the actors' schedules was a significant consideration. Sarah Jessica Parker, for example, already had And Just Like That, the SATC sequel on her plate, while Doug Jones, the original Billy Butcherson, now stars in Paramount+'s Star Trek: Discovery. But things came together by late fall 2021, with filming kicking off in November.
On Nov. 10, Parker posted the first behind-the-scenes glimpse on her Instagram stories. As her makeup artist got to work in the clip, turning her back into Sarah Sanderson, Parker captioned: "Hair and makeup test on HP 2 first day." A second image featured her famous blonde wig from the series, captioned: "Where's Sarah? Where's Sarah? There's a piece of Sarah."
Filming for Hocus Pocus 2 concluded at the end of January 2022, with director Adam Shankman confirming the film's anticipated fall 2022 release date.
Hocus Pocus 2 Plot
Here's the film's current logline: "In Hocus Pocus 2, three young women accidentally bring the Sanderson Sisters back to modern-day Salem and must figure out how to stop the child-hungry witches from wreaking a new kind of havoc on the world."
A teaser at the Disney upfronts on May 17 confirmed a song the Sanderson sisters will be covering in the sequel: Elton John's "The B*tch Is Back."
Hocus Pocus 2 Release Date
Disney confirmed Hocus Pocus 2 will fly onto Disney+ on Sept. 30, 2022. That's a little earlier than the expected Halloween release date, but it means fans will get to spend all of October with their favorite witches.
This article was originally published on