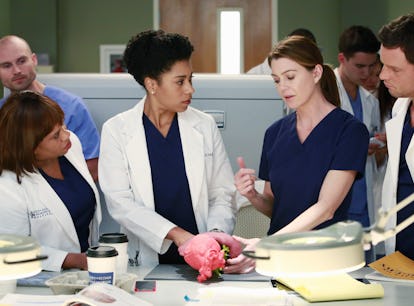 Grey's Anatomy Almost Had A Different (And Kinda Bland) Name
It would have changed everything.
Ron Tom/Disney General Entertainment Content/Getty Images
It's no secret that Grey's Anatomy is a pop culture sensation. The show has shocking twists, intense love interests, character deaths that still haunts viewers, enough influence to trigger a hypochondriac and make fans believe they're licensed doctors, and quite the season renewals. With all these accolades, the medical drama's title is pretty recognizable. However, there's a chance Grey's would've been named something a bit more underwhelming.
On June 6, former Grey residents Ellen Pompeo and Katherine Heigl appeared on Variety's Actors on Actors segment. The two spoke about the series' impact, which seems to still surprise them nearly 18 years after its debut. While chatting about Grey's early success, Pompeo (who formerly played Meredith Grey) revealed the show's title was almost changed on set.
"Remember they tried to change the name? Do you remember that day on set?" Pompeo asked Heigl, to which she said 'no.' "That is a day I really remember, because the mood on set— they were like, 'Oh, we're gonna change the name of the show to Complications." In an odd way, this title sounds a bit too on the nose, even though that can be argued for its current title.
Pompeo continued, sharing the potential name swap didn't sit right with the cast. "It was just like somebody had died. Everybody on set felt that we'd been working so hard, we love this show so much, and if they changed the name to this? It would never go. It's a horrible title," she said, adding the cast had a "collective mourning" on set.
Even Heigl (who played Izzie Stevens for the first six seasons) looked shocked at the Consequences name drop, almost as if she tucked that moment away in the furthest part of her mind. Luckily, the network took notes and let the series continue as Grey's Anatomy.
This isn't the first time a cast member or writer has shared the show's revolving door of potential title swaps. Yes, there's more than one. In 2017, the show's creator Shonda Rhimes revealed that Grey's Anatomy was initially called Surgeons. That same year, Kate Walsh — who starred as Addison Montgomery in the series — told BuzzFeed Grey's had another name contender: Doctors. I... speechless.
"They kept changing the name of the show. It was Doctors and then Surgeons and then Complications and I was like, "What a bullsh*t show title!" Walsh said at the time. "Grey's Anatomy is the perfect title."