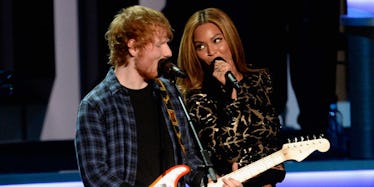 9 Things To Know About The Grammys If You've Never Watched Before
Getty Images
If you've never watched The Grammys, you and I have something in common. Before looking into it, "grammys" was just a word to describe a gaggle of grandmothers.
I'm not going to lie, I thought the VMAs and The Grammys were basically the same thing, but apparently they're not. My only semi-voluntary involvement in any awards show is scrolling through Facebook and Twitter the next day, half reading about the highlights.
This year will be different. The Grammys is this Monday, February 15. Since when am I too busy on a Monday to plunk myself down in front of the TV to watch awesome music performances and stuff?
I can't be the only one who has some catching up to do before the 58th annual Grammys Awards.
To be fair, if you're like me and haven't given any f*cks about The Grammys, it's definitely because you've been paying lots of attention to other important national matters...right? When I say other important national matters, I mean Beyoncé.
Here's the low down on everything you need to know for this year's Grammys.
1. Where it's happening: CBS. Or you can live stream it.
2. What time it's happening: The show starts at 8 pm EST/5 pm PST on Monday, February 15. If you want to catch the red carpet before, that starts at 6 pm EST/3 pm PST on E!.
3. Who we know is definitely performing: Adele, Justin Bieber and The Weeknd are all confirmed. Apparently interesting collaborative performances will also happen, such as Ellie Goulding sharing the stage with Tori Kay. Other performers include Rihanna, Demi Lovato, Pitbull, Carrie Underwood and John Legend. Lady Gaga will also perform a tribute to David Bowie. If you're into Broadway shows, definitely don't miss the live performance from the cast of "Hamilton," which will be broadcast live from New York City.
4. Out of the 82 awards being given out at the Grammys, these are the ones that people actually care about: Record Of The Year, Album Of The Year, Song Of The Year and Brand New Artist.
Kendrick Lamar has the most nominations for his album To Pimp A Butterfly. He's up for 11 awards. Followed by him are Taylor Swift and The Weeknd, tied at seven nominations each.
5. People love to speculate who will win what awards. So far, it's looking like Kendrick Lamar is going to win the most, but as usual Taylor Swift has a good chance to win for her album 1989 and smash hit, "Blank Space."
Megan Trainor has the best shot at Best New Artist, and Bruno Mars will probably take home an award for Record Of The Year for "Uptown Funk."
Surprisingly, Justin Bieber has never won a Grammy. He apparently has the chance to finally take home a Grammy for Best Dance Recording because of his collaboration with Skirllex and Diplo on "Where Are Ü Now."
6. Check out the full list of categories and nominees here.
Here are some more things to know about the Grammys this year:
7. LL Cool J is hosting for the fifth time in a row. This will also be the first time ever that the Grammys will air live. Keep your eyes peeled for potential wardrobe malfunctions and shady interactions between celebs in attendance.
8. Even though Adele blew us all away with her new album, 25, it wasn't released in time to be up for a Grammy this year. Don't worry though; I'm sure we'll all be drowning in a puddle of tears and wet tissues during her performance.
9. Just in case you didn't know, which of course you don't because you're reading this guide, there are actually awards given out for Best Music Film and Best Spoken Word Album. Who knew? (Not me.)
Now that you've been somewhat educated on the basics of the Grammys this year, instead of zoning out when people talk about it you can actually join the conversation like a normal human being. Maybe you'll actually watch this year, too.