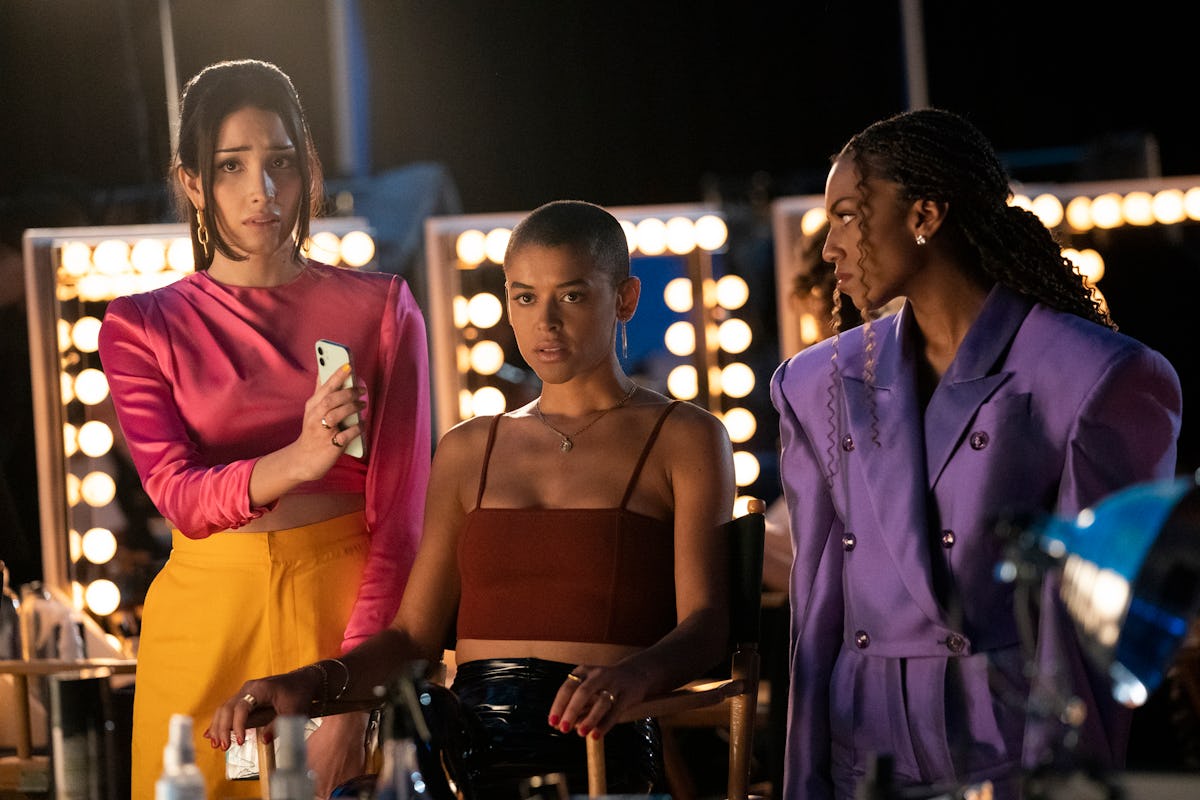 The Gossip Girl Reboot Soundtrack Is Full Of Absolute Bangers
It may even rival the original show's bops.
Karolina Wojtasik/HBO Max
HBO Max's reimagined version of Gossip Girl contains the exact ingredients that made the original series a success: a gorgeous, instantly recognizable cast, timely cameos, and a whole lot of camp. Set in modern-day times, approximately nine years after the events of The CW's runaway hit, this new installation takes viewers straight back to Constance Billard School, the Upper East Side, rich-kids-only institution where an anonymous blogger named Gossip Girl wreaked havoc on the lives of uppity teens deeply invested in their social lives. You likely already knew that. But one refreshing revelation is that just like the OG series, the new Gossip Girl's Season 1 soundtrack is stacked with songs you'll want to perpetually keep on rotation.
Warning: Spoilers for Gossip Girl Season 1, Episode 1 follow. Like any good TV show, the songs that direct fans from one dramatic plot twist to the next say so much about the world we live in. Justin Timberlake, Rihanna, and Gym Class Heroes (throwback!) were among the artists with then-new tracks featured in Season 1 of the original show, which aired from 2007 to 2012.
From the first few seconds of the reboot's start, it's evident the creators and writers intended to cast a light on just how diverse, queer, sex-positive, and politically savvy this new group of characters are. To do so, producers relied on music by Frank Ocean, Junglepussy, Rosalía, and Billie Eilish, among many more, to introduce the world to the new Gossip Girl squad: Julien Calloway, Zoya Lott, Aki Menzies, Max Wolfe, Audrey Hope, Obie Bergmann IV, Luna La, Monet De Haan, and Kate Keller.
I'll save some juicy spoilers for your own viewing pleasure. However, the first quarter of Episode 1 reaches a thrilling crescendo thanks to a key song on the soundtrack. After Tavi Gevinson's Ms. Keller (yep, she plays a teacher) and a group of her disgruntled Constance colleagues decide to reinstitute the Gossip Girl idea (this time via Instagram, not a wonky website), the title credits roll to Ariana Grande's "Positions," a familiar track made perfect for the reintroduction of Kristen Bell, whose mysterious (yet soothing) voice is back to narrate the series.
As though time has changed nothing, Bell delivers an inviting monologue that made me immediately want more dirt: "Hello followers, Gossip Girl here — your one and only source for the truth behind the scandalous lives of New York's elite," she says. "Been a minute. Did you miss me? I know I've missed you."
It's gonna be fun to hear the sounds of Gossip Girl deliciously evolve across Season 1's 10 episodes, released weekly. Here's what we've got so far:
Gossip Girl Season 1, Episode 1 Soundtrack
"All My Girls Like To Fight" - Hope Tala
"Super Rich Kids" - Frank Ocean
"Take Me Where Your Heart Is" - Q
"Positions" - Ariana Grande
"Drinks" - Cyn
"Steam" - Exmiranda
"Runaway" - Rei Ami
"Therefore I Am" - Billie Eilish
"Rascal (Superstar)" - Tinashe
"Just Checking In" - Kllo
"Spiders" - Junglepussy
"A Palé" - Rosalía
"I Can't Stay The Same" - Vanessa Carlton
Gossip Girl Season 1, Episode 2 Soundtrack
"Spotlight" - Jessie Ware
"Jaguar" - Victoria Monét
"All That" - Emotional Oranges (feat. Channel Tres)
"Are U Down" - Jayda G
"Run The Track" - Cosha
"Dora" - Tierra Whack
"Freak" - Doja Cat
"Put Your Head On My Shoulder" - Paul Anka
"Someone Ain't Right" - Doris Troy
"My Baby Just Cares For Me" - Nina Simone
"Our Delight" - Roy Haynes & Phineas Newborn & Paul Chambers
"Tears To Burn" - Dinah Washington
"The 'In' Crowd" (Live At The Bohemian Caverns, Washington D.C., 1965) - Ramsey Lewis Trio
"Saturdays" - Twin Shadow (feat. HAIM)
"Once Upon A Time" - SHAED
Gossip Girl Season 1, Episode 3 Soundtrack
Without You" - Perfume Genius
"Same Damn Luck" - Nilüfer Yanya
"String Quartet No. 14, 'Death and the Maiden', D. 810 [Arr. Mahler]: IV. Presto" - London Symphony Orchestra
"Eternal Sunshine" - Lou Val
"IPHONE" - Rico Nasty
"Acid Rain" - Lxury
"CLOUDS" - Park Hye Jin & Nosaj Thing
"Two Hearts (Jacques Greene Remix)" - Zola Blood
"Stop!" - UPSAHL
"Teardrop" - Hayley Williams
"Ac-Cent-Tchu-Ate The Positive" - Aretha Franklin
"I. Psalm 108, verse 2 - Psalm 100, entire from Chichester Psalms, for Chorus and Orchestra" — New York Philharmonic with Leonard Bernstein featuring the Camerata Singers
"Never Say Never" - Romeo Void
"Harden My Heart" - Quarterflash
"Cloudbusting" - Kate Bush
"Hardline" - Julien Baker
"ROYL" - Chloe x Halle
In the words of GG herself, "watch this space" for the complete list of Season 1 songs. New episodes of Gossip Girl Season 1 drop on Thursdays on HBO Max.
This article was originally published on