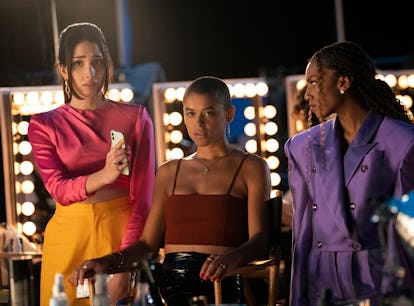 Here's The Full Gossip Girl Season 1 Soundtrack
Listen on repeat while you wait for Season 2.
Karolina Wojtasik/HBO Max
HBO Max's reimagined version of Gossip Girl contains the exact ingredients that made the original series a success: a gorgeous, instantly recognizable cast, timely cameos, and a whole lot of camp. Set in modern-day times, approximately nine years after the events of The CW's runaway hit, this new installation takes viewers straight back to Constance Billard School, the Upper East Side, rich-kids-only institution where an anonymous blogger named Gossip Girl wreaked havoc on the lives of uppity teens deeply invested in their social lives. You likely already knew that. But one refreshing revelation is that just like the OG series, the new Gossip Girl's Season 1 soundtrack is stacked with songs you'll want to perpetually keep on rotation.
Warning: Spoilers for Gossip Girl Season 1 follow. Like any good TV show, the songs that direct fans from one dramatic plot twist to the next say so much about the world we live in. Justin Timberlake, Rihanna, and Gym Class Heroes (throwback!) were among the artists with then-new tracks featured in Season 1 of the original show, which aired from 2007 to 2012.
From the first few seconds of the reboot's start, it's evident the creators and writers intended to cast a light on just how diverse, queer, sex-positive, and politically savvy this new group of characters are. To do so, producers relied on music by Frank Ocean, Junglepussy, Rosalía, and Billie Eilish, among many more, to introduce the world to the new Gossip Girl squad: Julien Calloway, Zoya Lott, Aki Menzies, Max Wolfe, Audrey Hope, Obie Bergmann IV, Luna La, Monet De Haan, and Kate Keller.
I'll save some juicy spoilers for your own viewing pleasure. However, the first quarter of Episode 1 reaches a thrilling crescendo thanks to a key song on the soundtrack. After Tavi Gevinson's Ms. Keller (yep, she plays a teacher) and a group of her disgruntled Constance colleagues decide to reinstitute the Gossip Girl idea (this time via Instagram, not a wonky website), the title credits roll to Ariana Grande's "Positions," a familiar track made perfect for the reintroduction of Kristen Bell, whose mysterious (yet soothing) voice is back to narrate the series.
As though time has changed nothing, Bell delivers an inviting monologue that made me immediately want more dirt: "Hello followers, Gossip Girl here — your one and only source for the truth behind the scandalous lives of New York's elite," she says. "Been a minute. Did you miss me? I know I've missed you."
Here's the full soundtrack listing for Gossip Girl Season 1, episode by episode:
Gossip Girl Season 1, Episode 1 Soundtrack
"All My Girls Like To Fight" - Hope Tala
"Super Rich Kids" - Frank Ocean
"Take Me Where Your Heart Is" - Q
"Positions" - Ariana Grande
"Drinks" - Cyn
"Steam" - Exmiranda
"Runaway" - Rei Ami
"Therefore I Am" - Billie Eilish
"Rascal (Superstar)" - Tinashe
"Just Checking In" - Kllo
"Spiders" - Junglepussy
"A Palé" - Rosalía
"I Can't Stay The Same" - Vanessa Carlton
Gossip Girl Season 1, Episode 2 Soundtrack
"Spotlight" - Jessie Ware
"Jaguar" - Victoria Monét
"All That" - Emotional Oranges (feat. Channel Tres)
"Are U Down" - Jayda G
"Run The Track" - Cosha
"Dora" - Tierra Whack
"Freak" - Doja Cat
"Put Your Head On My Shoulder" - Paul Anka
"Someone Ain't Right" - Doris Troy
"My Baby Just Cares For Me" - Nina Simone
"Our Delight" - Roy Haynes & Phineas Newborn & Paul Chambers
"Tears To Burn" - Dinah Washington
"The 'In' Crowd" - Ramsey Lewis Trio
"Saturdays" - Twin Shadow (feat. HAIM)
"Once Upon A Time" - SHAED
Gossip Girl Season 1, Episode 3 Soundtrack
Without You" - Perfume Genius
"Same Damn Luck" - Nilüfer Yanya
"String Quartet No. 14, 'Death and the Maiden', D. 810 [Arr. Mahler]: IV. Presto" - London Symphony Orchestra
"Eternal Sunshine" - Lou Val
"IPHONE" - Rico Nasty
"Acid Rain" - Lxury
"CLOUDS" - Park Hye Jin & Nosaj Thing
"Two Hearts (Jacques Greene Remix)" - Zola Blood
"Stop!" - UPSAHL
"Teardrop" - Hayley Williams
"Ac-Cent-Tchu-Ate The Positive" - Aretha Franklin
"I. Psalm 108, verse 2 - Psalm 100" — New York Philharmonic, Leonard Bernstein feat. the Camerata Singers
"Never Say Never" - Romeo Void
"Harden My Heart" - Quarterflash
"Cloudbusting" - Kate Bush
"Hardline" - Julien Baker
"ROYL" - Chloe x Halle
Gossip Girl Season 1, Episode 4 Soundtrack
"Bonafide" - Emotional Oranges (feat. Chiiild)
"Bibles" - Jaja Bu
"Best Friend" - Saweetie (feat. Doja Cat)
"Lavender" - Disclosure & Channel Tres
"Body" - Megan Thee Stallion
"Waves of Blue" - Majid Jordan
"Levitating" - Dua Lipa
"Impact" - SG Lewis (feat. Robyn & Channel Tres)
"It's Not My Fault" - Princess Nokia
"Dionne" - The Japanese House (feat. Justin Vernon)
Gossip Girl Season 1, Episode 5 Soundtrack
"Gospel For A New Century" - Yves Tumor
"Solar Power" - Lorde
"The Kiss of Venus" - Paul McCartney & Dominic Fike
"Rhythm In Your Pose" - SJU
"Lakme: Lakme, Act II: Lakme, ton doux regard se voile" - Philippe Brocard, Sandor Gyudi, Hungarian National Symphony Orchestra Szeged
"By Now" - VÉRITÉ
"Gem" - Jane Inc
"Nada" - Christine & The Queens
"If I Were A Bell" - Blossom Dearie
"Chaise Lounge" - Wet Leg
"I Put A Spell On You" - Billy Porter (performing live in episode)
"Perdido" - Count Basie & Sarah Vaughn
"Sack O' Woe" - Jamie Cullum
"Mambop" - Lalo Schifrin
"Halloween" - Phoebe Bridgers
Gossip Girl Season 1, Episode 6 Soundtrack
"Hey Lou" - Liz Phair
"Medallion" - Jenevieve
"If You Wanna (Gianni Brezzo Remix)" - J.Lamotta
"Mozart's Piano Sonata No. 3: I. Allegro" - William Youn
"I Don't Know" - Bill Withers
"WAKING UP DOWN" - Yaeji
"Burn Your Life Down" - Bleachers
"(You Don't Know) How Glad I Am" - Nancy Wilson
"Hieroglyphs" - TRZTN & Karen O
Gossip Girl Season 1, Episode 7 Soundtrack
"Psycho Hole" - Ashwarya
"Focus" - H.E.R.
"Oh Oh Oh Oh Oh Oh Oh Oh" - Say Hi
"This Is Me Trying" - Taylor Swift
"I Walk A Little Faster" - Blossom Dearie
"Softly As In A Morning Sunrise" - Wynton Kelly
"To Life (L'chaim)" - Cannonball Adderley
"Losing True" - The Roches
Gossip Girl Season 1, Episode 8 Soundtrack
"PAIN" - King Princess
"It Makes You Forget (Itgehane Edit)" - Peggy Gou
"Willow Weep For Me" - Ray Bryant
"It's Not for Me to Say" - Johnny Mathis
"Apricots" - Bicep
"Rules (Big Miz Remix)" - Hot Since 82 & Big Miz
"We Could" - Al Martino
"Bets Off" - alexmaax
Gossip Girl Season 1, Episode 9 Soundtrack
"Boys Will Be Boys" - Dua Lipa
"Bunny Is A Rider" - Caroline Polachek
"Summer Kisses Winter Tears" - Elvis Presley
"Wrapped in Red" - Kelly Clarkson
"Note To Self" - Jim-E Stack feat. Empress Of
"I Wanna Dance With Somebody (Who Loves Me)" - Whitney Houston
"No Hard Feelings" - Wolf Alice
"Traitor" - Olivia Rodrigo
Gossip Girl Season 1, Episode 10 Soundtrack
"What's The Point" - Empress Of
"White Christmas" - Ray Coniff
"Back On The Fence" - Healy (feat. Becky and the Birds)
"Fiddler On the Roof" - Cannonball Adderley
"Julien" - Carly Rae Jepsen
"Matchmaker" - Cannonball Adderley
"Keep Moving" - Jungle
"Walk The Beat" - Tierra Whack
"Papa, Can You Hear Me?" - John Williams, Itzhak Perlman & the Pittsburgh Symphony Orchestra
"Wildfire" - Cautious Clay
"Blades of Grass" - Wet
"Lonesome Tears" - Beck
Gossip Girl Season 1, Episode 11 Soundtrack
"Merry Christmas, Baby" - Ike & Tina Turner
"God Rest Ye Merry Gentlemen" - Annie Lennox
"It Won't Be Long 'Til Christmas" - Diana Ross and The Supremes
"Cocoa Beach" - MUNYA
"Only Yesterday" - The Carpenters
"Cool Yule" - Louis Armstrong With the Commanders
"I'll Be Home For Christmas" - The Beach Boys
"Silent Night" - Taylor Mac
"Fairytale of New York" - The Pogues & Kirsty MacColl
"Ole Santa" - Dinah Washington
"Christmas Wrapping" - The Waitresses
"Pressure Machine (Abridged)" - The Killers
Gossip Girl Season 1, Episode 12 Soundtrack
"Brutal" - Olivia Rodrigo
"Big Wheel" - Samia
"True Seekers" - Sleigh Bells
"Golden" - Zella Day
"Witchoo" - Durand Jones & The Indications
"Get Over Here" - Aly & AJ
"B.O.M.B." - St. Panther
"Wild Heart" - Stevie Nicks
"Blue Gardenia" - Dinah Washington
"Be Sweet" - Japanese Breakfast
"Something Just Like This" - The Chainsmokers & Coldplay
"Good Ones" - Charli XCX
"Have Mercy" - Chlöe
"Introvert" - Little Simz
All episodes of Gossip Girl Season 1 are streaming on HBO Max. Season 2 is expected out in 2022.
This article was originally published on