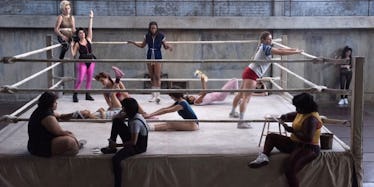 This Is How Realistic Netflix's 'GLOW' Actually Is
Netflix
Netflix's latest series GLOW isn't totally made up.
There really was a show in the 1980s called G.L.O.W.: Gorgeous Ladies of Wrestling. It ran for four seasons, from 1986 through 1990 on cable television, and was watched just as much in syndication as it was live.
The new show, which stars Alison Brie, is described as a "fictionalized" version of how the original show came to be. But how much of the story shown on Netflix is real? And how much is made up?
For starters, let's check out the trailer for the documentary GLOW: The Story of the Gorgeous Ladies of Wrestling, which came out in 2012.
As you can see, many of the characters we see our actresses developing were ones who actually appeared on the show. There was indeed a Russian bad girl, who was a popular villain "heel." There was a patriotic character "Liberty" who was her "face" counterpart.
We also see glimpses of wrestlers who look like real-life versions of Britney Young (Carmen) and also a couple who clearly inspired the looks they gave Kia Stevens (Tammé the "Welfare Queen") and Ellen Wong (Jenny the "Fortune Cookie").
The pink ropes are there, as is the run down Las Vegas hotel ballroom they filmed in. And even Marc Maron's "director who liked to yell" doesn't look too off from the show's original manager David B. McLane.
Then there's that scene at the end of the first live match, after Betty Gilpin's character runs out of the ring, and Rhonda (played by British musician Kate Nash) starts randomly rapping and all her co-stars join in. Those raps really happened and were an integral part of the original show.
But there's a lot of stuff that's been left out, too. The character played by Chris Lowell, Sebastian "Bash" Howard, was in real life, Matt Cimber, who was Jayne Mansfield's last husband. On the Netflix version, he lives on his parents' money, but in real life, it was Mansfield's.
And while we have a stand in for original trainer Mando Guerrero in the first episode, the character Cherry (Sydelle Noel) who takes over their training was, in real life, a wrestling veteran named Cynthia Peretti. (She did actually wrestle in the show as well, under the stage name "Pepper.")
But the most glaring and tragic removal in the Netflix show is the absence of Jackie Stallone, who you may know as Sylvester Stallone's mother. She was a matron figure on the show, in charge of the "Good Girl" stable of wrestlers. I don't know why they left her out -- perhaps they're planning to bring her onto the show come Season 2.
GLOW is streaming now on Netflix.