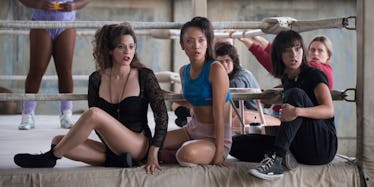 Does The Cast Of 'GLOW' Look Familiar? Here's What You Recognize Them From
Netflix
Netflix's new '80s wrestling dramedy GLOW is packed with talent.
Similar to its executive producers' previous Netflix series Orange Is the New Black, it features a predominantly female ensemble cast, many of whom you might not have seen in starring roles before now, but you might recognize from supporting or guest roles they've taken on beloved shows in the past.
Of course, you probably already know Alison Brie and Marc Maron, but as you binge your way through GLOW, you might find yourself asking "Where do I know her from!?" Well worry not, because I've put together your cheat sheet:
Alison Brie
The most recognizable name in the show is its lead and chances are you already knew of Alison Brie going into GLOW. She's best known for her starring roles on Community and Mad Men, and in her personal life, recently tied the knot with Dave Franco.
Marc Maron
Another recognizable name, particularly for podcast listeners, is comedian Marc Maron, who plays the temperamental director Sam Sylvia on GLOW. He's made a number of TV and movie appearances over the years but is perhaps best known for his interview podcast WTF with Marc Maron and his semi-autobiographical sitcom Maron.
Betty Gilpin
Alongside Alison Brie in the starring role is Betty Gilpin, playing a former soap opera star turned wannabe wrestling star. Fans of Nurse Jackie will know Gilpin best as Dr. Carrie Roman. She also had a recurring stint on Masters of Sex last year as Nancy.
Kate Nash
The cheery British redhead of the wrestlers, Rhonda, will likely seem familiar to pop music fans. That's singer/songwriter Kate Nash, best known for 2007 hit single "Foundations."
Chris Lowell
The wrestling producer Bash will probably have a familiar face to a lot of viewers. Chris Lowell has starred in major movies like Up in the Air and The Help, along with playing Dell on Private Practice. If you're anything like me, though, you know him as Piz from Veronica Mars.
Ellen Wong
Wong plays the wrestler Jenny in GLOW, but you might recognize her from her role as Knives Chau in Scott Pilgrim vs. the World. She was also Mouse in the short-lived The Carrie Diaries and appeared in the recent movie The Circle.
Sunita Mani
Mr. Robot fans will probably recognize the GLOW wrestler Arthie from Sunita Mani's role as Trenton on the hacker drama. She also popped up in recurring roles in two of the best new shows of 2016: The Good Place and Search Party.
Britney Young
One of the standouts in GLOW is the wrestler Carmen, played by Britney Young. She's best known for playing Little Debbie on the truTV comedy Those Who Can't.
Sydelle Noel
Cherry Bang in GLOW is a breakout role for Sydelle Noel, as she easily becomes one of the most captivating actresses in the series. Her first starring role, Noel has popped up in guest spots on hit shows like The Night Shift and Bones before this, and also had a part in the 2015 Kate Mara crime drama Captive.
Jackie Tohn
Partygirl wrestler Melrose is a scene-stealer on GLOW, and viewers may recognize her face from some of the biggest recent comedies, like Sisters and CHiPS.
Kia Stevens
Actual wrestling fans will notice one face in the cast that stands out among the actresses. Kia Stevens is a legitimate WWE superstar, who's won World Championships under her stage names Awesome Kong and Kharma. She puts her wrestling skills to use on GLOW as Tamee.