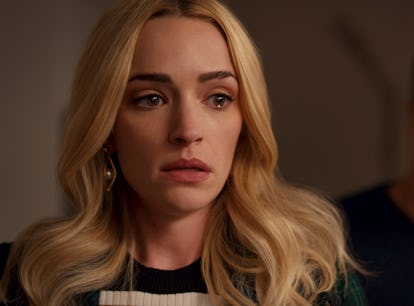 Everything To Know About Ginny & Georgia Season 3 So Far
That Season 2 cliffhanger though...
Netflix
Ginny & Georgia does a lot of things well, and at the top of that list is its season finales. First, there was the Season 1 finale, when Ginny (Antonia Gentry) ran away from home with her brother Austin (Diesel La Torraca) just like her mom Georgia (Brianne Howey) did at her age. All of that eventually got resolved in Season 2, but a whole new batch of drama started up in the sophomore season, which ended with its own huge cliffhanger that begs for another season. So, here are all the details so far about a possible Ginny & Georgia Season 3.
Warning: Spoilers for Ginny & Georgia Season 2 follow. At the end of Season 2, it seemed like Georgia might just get her happy ending after all. Things were finally OK between her and Ginny, and she made it down the aisle with Paul (Scott Porter). But right when she thought she could relax, she was arrested during her wedding reception, leaving audiences with the question of how she'll get out of this pretty big pickle if there's a Season 3.
"I think it's this idea that the show is going to look really different in Season 3 — if we were to get one — because this was a woman who was a superhero at what she did, and now she's been caught," series creator Sarah Lampert told Deadline. "It's almost like Superman got taken down. We'll see if she can get out of this mess she's found herself in."
Ginny & Georgia Season 3 Trailer
Since Season 3 hasn't officially been announced yet, there is no trailer. But in the meantime, you can enjoy the Season 2 trailer, which highlights some of the show's juiciest moments.
Ginny & Georgia Season 3 Release Date
There were about two years between the release of Ginny & Georgia Season 1 in February 2021 and the release of Ginny & Georgia Season 2 in January 2023, so fans might need to wait a little while for a potential Season 3.
Ginny & Georgia Season 3 Cast
Presumably, Season 3 will feature the same main cast as Seasons 1 and 2, which includes Brianne Howey as Georgia Miller, Antonia Gentry as Ginny Miller, Diesel La Torraca as Austin Miller, Scott Porter as Mayor Paul Randolph, Felix Mallard as Marcus Baker, Sara Waisglass as Maxine "Max" Baker, Jennifer Robertson as Ellen Baker, and Raymond Ablack as Joe.
Seasons 1 and 2 of Ginny & Georgia are streaming on Netflix now.