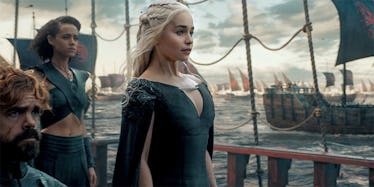 A New 'Game Of Thrones' Teaser Is Here And It Has Us Guessing About Season 7
GBO
None of us were prepared for this, but here we are.
"Game of Thrones" unveiled an in-production teaser trailer at Comic-Con and it seriously has us guessing.
Now, to be clear, most of the trailer is footage of the "GoT' crew setting up props for different scenes. Still, though, the teaser is nowhere near devoid of little hints, which really speak to the genius of the show.
It even makes a video about set work seem suspenseful!
There are multiple little aspects about the video any diehard could obsess over (and probably will obsess over) -- after all, we're starving for "GoT" content -- but here's one example:
As Cosmo's Laura Beck mentioned, Sophie Turner, the actress who plays Sansa Stark, pretty much hinted at the fact that Sansa will be staying at Winterfell to rule with Jon Snow.
Turner said at Comic Con,
I'm not sure she thinks Jon is capable of running Winterfell and the North. I don't think she thinks he has the intellect, the experience — and I concur.
And then there's this screenshot from the teaser that corroborates that idea, with a crew member clearly writing "Sansa's Chair" on a piece of equipment.
Could that be the prop she sits on at the table in Winterfell besides Jon?
I mean, she wouldn't need a chair if she were going off somewhere with Littlefinger, would she?
Whether that's going overboard or not, one thing's for sure, the little voice from a certain someone at the end of the teaser could tell us a lot about who might have a big moment in season 7.
Check out the teaser below.