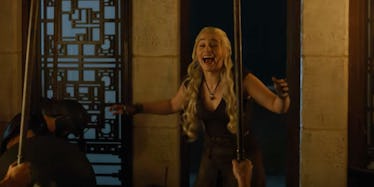 'Game Of Thrones' Released A Hilarious Blooper Reel And It's Helping Us Cope
HBO
At the time of writing, it's been about 26 days, 13 hours and 20 minutes since the season six finale of "Game of Thrones" ended on the east coast.
The near month drought of new episodes hasn't been easy to get through.
We the fans are basically Ramsay Bolton's dogs at this point; we're desperate to be fed and we'll chew on anything we can get. We'll talk about how Septa Unella is surprisingly hot IRL (no one saw that coming, by the way).
We'll get worked up over the mere announcement of season seven's start date, which looks like it really is going to suffer a delay due to the climate. We'll even re-watch the season finale, just to notice all the little -- but important -- details we may have missed.
The withdrawal is real, but at least it looks like HBO felt our pain. The show's official YouTube page released a reel of bloopers that is not only funny but reveals a few things we wouldn't know otherwise.
For instance, "The Hound" isn't as strong as we think he is.
Grey Worm is actually capable of smiling.
And about that "dragon" Dany rides on...
The reel is a small bone the show is throwing at us for sure, but we'll chew on it anyway. Check out the bloopers in the vid below.
Citations: Game of Thrones Season 6: Blooper Reel (HBO) (Game of Thrones)