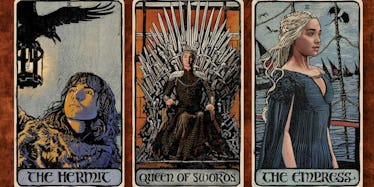 There's A 'Game Of Thrones' Tarot Deck Coming And Here's Who's On The Death Card
Chronicle Books
Time to take your Game of Thrones obsession to the next level. There's a Game of Thrones tarot deck on the way, so it's time for you to try and predict the next few seasons with this epic piece of memorabilia. A mock-up of the deck by Chronicle Books was on hand for fans at the 2017 San Diego Comic-Con, and let me tell you -- this deck is gorgeous. The artistry is amazing and each card has its own special meaning.
For those who don't know much about tarot cards, each card has a symbol. The order and orientation in which you pull these cards during a tarot reading can tell you a lot about a certain area of your life or a specific question you may want to answer.
There are a few major cards, including The Empress, The Emperor, The Fool, and Death. We already know a little bit about which character will be depicted on each card, thanks to the cover of the box. Bran is The Hermit, Cersei is the Queen of Swords, and Khaleesi is The Empress.
At Comic-Con, I found out which characters will be depicted on the other cards we haven't seen yet. Chronicle Books revealed that Arya will be on the Death card, and Tyrion will be the face of the Fool card. We will also see Jon Snow as the Emperor. (Family members as Emperor and Empress? Sounds amazing to me.)
The deck's author, Liz Dean, says the HBO show is the perfect fit for a tarot deck. She says,
Archetypes are the foundation of every great tale—and Game of Thrones is an outstanding story, a rich weave… From the icy landscapes beyond the Wall to the hot deserts of Dorne, the world of Game of Thrones is replete with symbolism: an abundant source for a new tarot deck.
The deck is available for pre-order on Amazon now for $24.95. It's expected to be released by the end of this year.