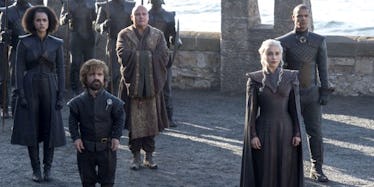 'Game Of Thrones' Season 7 Finale Will Be The Best One Yet And This News Proves It
HBO
Game of Thrones fans are going to need to be ready to settle in when it comes time for the Season 7 finale, because it's going to legitimately be the length of a feature film.
That's right — although the new season was confirmed to have less episodes than ever before a couple months back (7 instead of the usual 10), we're now learning that those episodes will be much longer than viewers have come to expect from the show, culminating in a season finale that will be the longest episode the show has ever aired.
Eagle-eyed fans from the series' fan site Watchers On The Wall managed to find the episode lengths for the Season 7 episodes on HBO's website and shared the exciting discovery that the new season's finale will be a whopping 81 minutes long.
You heard right: EIGHTY-ONE MINUTES! That means this episode of Game of Thrones is actually going to be longer than some full-length movies. Below I've compiled a list of some well-known films that the Season 7 finale of Game of Thrones will be just as long as:
Toy Story
This Is Spinal Tap
The Nightmare Before Christmas
Paranormal Activity
March of the Penguins
4 episodes of any sitcom
Sooo, yeah. Get comfortable on your couch and have some popcorn ready for that super-long finale, because it's basically going to be a movie.
And it's not just the finale that's getting supersized this season. The new info from HBO also reveals that the penultimate sixth episode of the season will be 71 minutes long, and the other five episodes will hover around 60 minutes in length. This makes the average episode length of the shortened season 63 minutes, considerably more than the average length of other hour-longs (which usually come in under an hour due to commercials).
Now, the question is: What's going to go down in these feature-length episodes?!
Season 7 premieres on July 16, with the finale slated to air on August 27, so we'll just have to wait and see.