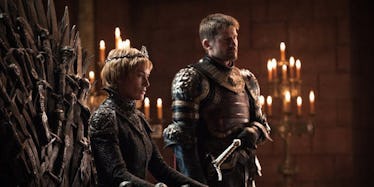 'Game Of Thrones' Released 15 Pics From Season 7 And July Can't Come Soon Enough
HBO
A lot has happened since the "Game of Thrones" season 6 finale aired last August.
Cronuts really aren't a thing anymore, Donald Trump is legitimately President of the United States, flower crowns were sooooo 2016 at this year's Coachella and "La La Land" proved musicals are, like, super cool now.
However, amid all of these life-changing events, we still have no real answers on the fate of the Seven Kingdoms. We've spent our days theorizing, re-watching, re-reading and replaying every plot in "Game of Thrones" to no avail.
The good news? Today is 4/20 and HBO clearly realizes there's nothing a group of stoners loves more than analyzing sneak peek photos from a show they typically watch while puffing on a dragon-shaped bowl.
Additionally, non-pot smokers are also celebrating these 15 new pictures from "Game of Thrones" season 7 because this fandom will analyze and over-analyze anything George RR Martin throws our way.
So, without further ado, here are the 15 new photos from "Game of Thrones" season 7.
I took the liberty of captioning each photo with the thoughts that went through my head upon seeing them. Enjoy!
Tormund and Brienne of Tarth are the Ross and Rachel of "Thrones."
Bad bitches only.
Actually, Jamie and Cersei are probably the Ross and Rachel.
If you're going to wear Targaryen armor, you best be wearing shoulder pads.
Honestly, Little Finger's face is so punchable.
A girl can see, but a girl is concerned.
Oh, so Varys aged as quickly as Obama did, that's nice.
Ah, another concerned expression. Same.
Hm, this might be the MOST concerned expression yet! Also, didn't realize how prominent Jon Snow's widow's peak is.
OK, so The Hound is in the North. That's something. It's not all widow's peaks and concerned faces.
Cool, cool, Bran is still being pulled on a sled by Meera. Riveting.
Missandei should be in one of Rihanna's music videos. This is my formal request.
"Little town... it's a quiet village... every day... like the one before..."
This looks like Westeros, right? This has to be Westeros. They're in Westeros.
And we end with another concerned expression.
"Game of Thrones" season 7 airs on HBO on July 16.