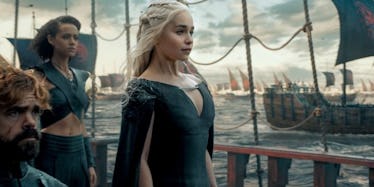 The First 'GOT' Season 7 Promo Is Here And It Means Big Things For Khaleesi
HBO
HBO just dropped the first trailer for "Game of Thrones," and holy crap is this season going to be insane.
After announcing the July 16 premiere using flame throwers and a brick of ice during a poorly planned Facebook Live, HBO has finally given us something substantial to sink our teeth into.
Full warning: You will have this trailer on repeat for the next few days.
In the preview, we see Cersei, Khaleesi and Jon Snow all walking through their respective castles looking angry. Would it have been better if they did this to the song "Hooked on a Feeling"? Sure. Was it still super badass, though? YESSSSS.
The trailer opens up on Jon Snow walking through a building in Winterfell.
We then cut to Cersei making her way through a castle in King's Landing followed by a shot of Daenerys.
The trailer implies Khaleesi is now closer than ever to King's Landing.
In it, she takes a seat on a throne in Dragonstone while wearing black and red colors (aka, Targaryen colors).
The trailer ends with Cersei taking her seat on the Iron Throne and then breathing some fog.
The implication here is that after seven seasons winter has finally made its way to King's Landing.
The last image from the trailer should shoot icy chills down your spine:
There are obviously a billion questions this season has to answer. The big question, though, is HOW DOES ED SHEERAN FIT INTO THIS SEASON?!?! (I know we're all wondering!)
We know Ed is now part of the cast, but aside from that we don't really have any other info.
"GoT" co-creator David Benioff made the announcement during a panel at SXSW, saying,
For years, we tried to get Ed Sheeran on the show to surprise Maisie [Williams], and this year we finally did it.
Buckle up!