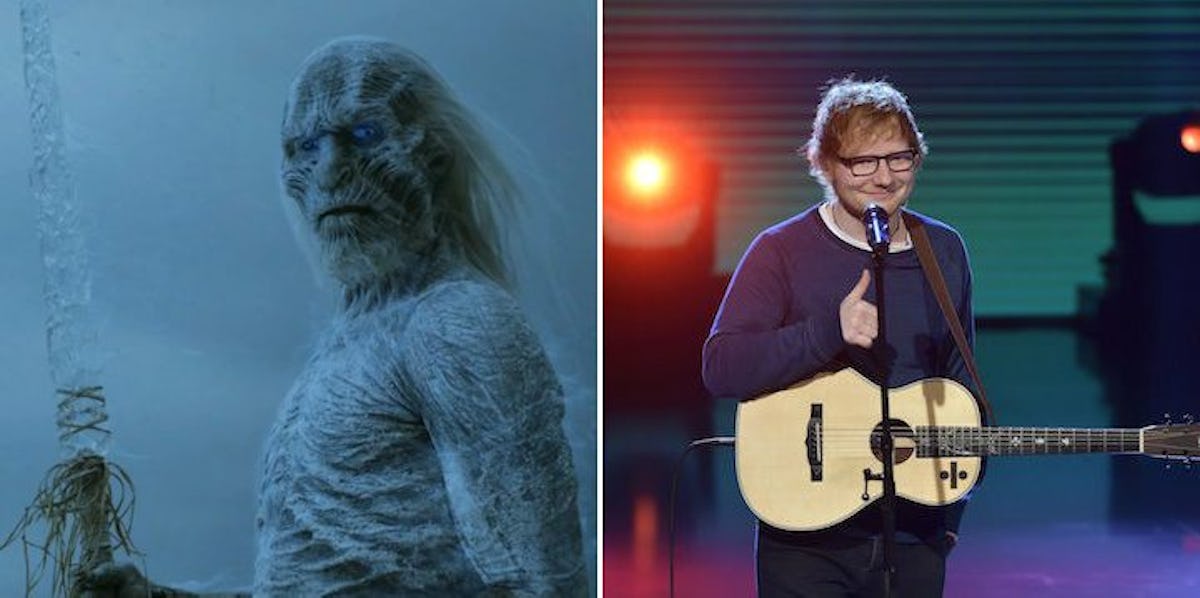 Ginger Is Coming: Ed Sheeran Is Joining 'Game Of Thrones' And Fans Are Losing It
HBO REX/Shutterstock
Ginger is coming.
IT'S OFFICIAL!!! On Sunday, "Game of Thrones" creators David Benioff and D.B. Weiss confirmed Ed Sheeran will be making an appearance on the next season of the show.
What will he be doing? Who will he be playing? How many ice zombies will eventually eat Sheeran's character alive during a battle between fire dragons and ice dragons (this is a thing that probably won't happen that we all want to happen)?
We don't know any of that yet. All we know is Sheeran now has to DIVIDE his time between Westeros and Taylor's squad.
The reveal happened during a panel at SXSW moderated by "GoT"ers Maisie Williams and Sophie Turner, where Benioff told audiences,
For years, we tried to get Ed Sheeran on the show to surprise Maisie [Williams], and this year we finally did it.
According to The Hollywood Reporter, a spokeswoman for HBO did confirm Ed would be making an appearance on the show but didn't confirm or give any details on what his role will be.
That's really all the new "Game of Thrones" information we have about the show in general.
During the panel, Weiss and Benioff didn't give much information about the upcoming season, though they did confirm season eight, the last season of the show, will have an abbreviated six-episode run.
Fans are obviously freaking out over the news.
After six seasons, "GoT" has obviously become a pop culture and science fiction touchstone. That doesn't mean the "Thrones" team was always so sure of the show's future.
During the panel, Weiss and Benioff explained how they thought they wouldn't make it out of the first season after the pilot was shot. The creative duo even said Williams and Turner were crying at the wrap party.
Benioff recalled,
There was a very good chance the show wouldn't get picked up because we made a lot of mistakes with the pilot... I told you guys it would be OK, but I had no idea.
Clearly, that was a dumb dumb dumb dumb dumb thing to think. You dumb geniuses.
Citations: Ed Sheeran to Appear in 'Game of Thrones' Season 7 (Hollywood Reporter)