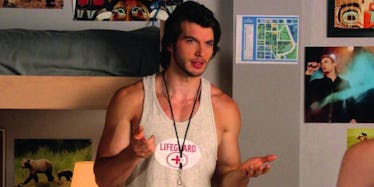 Kimmy Gibbler's Brother Is Coming To 'Fuller House' And He's Sexy AF
ABC Family
At this point in my 20s, "Sexual Confusion" could easily be the name of my signature perfume, and the newest addition to the "Fuller House" cast is only serving to muddy the waters further.
See, traditionally speaking, the Gibblers are weird and gross.
Yet Kimmy Gibbler's brother, Jimmy Gibbler, is crazy hot.
According to E!, "Switched At Birth" actor Adam Hagenbuch has signed on to play Jimmy in season two of the Netflix reboot series.
Kimmy simply having a sexy brother won't turn anyone's libido upside down and sideways until E!'s assertion he's "the male version of Kimmy" comes into play.
Watching a man with hair like a big, delicious walnut and eyes that could maybe telepathically remove my clothes from a distance (clearly I've never met a hot guy IRL, but whatever) waltz into Danny's kitchen shouting "HOLA TANNERITOS" is going to be a challenge.
Then again, Adam made an appearance in Lifetime's abysmal biopic, "The Britney Murphy Story," as Ashton Kutcher. Despite the film being a total cringe circus, Adam remained a gorgeous sunbeam from heaven above.
Joining him for season two of "Fuller House" is the season one cast and an impressive roster of celebrity cameos, including the New Kids On The Block and TV dad Alan Thicke and famously excluding the Olsen twins, now and forever.
Also, don't forget the ~themes~. Candice Cameron Bure, aka DJ Tanner, promised us holiday-themed episodes and we are HOLDING YOU TO THAT, BURE.
Last month, during a visit to "The View," she told the hosts,
I'm super excited our season this year is very holiday themed… We have a Halloween show, Thanksgiving, Christmas, New Years Eve, and lots of family.
Could this mean we see Jimmy Gibbler in a sexy Santa suit? Or a sexy turkey suit? Or a sexy Baby New Year... diaper?
I'll see myself out.
Citations: Get Ready to Meet Kimmy Gibbler's Brother on Fuller House (E!)