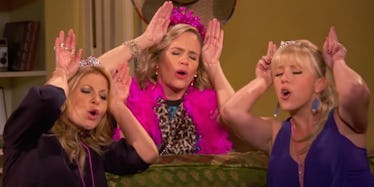 'Fuller House' Is Coming Back To Netflix A Lot Sooner Than You Think
A release date has officially been announced for season two of Netflix's "Fuller House," so get mildly to moderately excited.
Candace Cameron Bure, aka DJ Tanner, took a moment on Wednesday's episode of "The View" to announce the December 9 return of the sitcom reboot.
She shared,
I'm super excited our season this year is very holiday themed… We have a Halloween show, Thanksgiving, Christmas, New Years Eve, and lots of family.
"Fuller House" was renewed for season two less than a week after the premiere of season one, Entertainment Weekly reports.
The first episode of the sophomore season is titled "Welcome Back," based on a pic shared via Instagram in May by Jodie Sweeten, aka Stephanie Tanner.
Special guests for season two include the New Kids On The Block boys (JK, they're men, now), Joey McIntyre, Danny Wood and Jordan and Jonathan Knight. Actor Hal Sparks will replace Jason Marsden (you might know him better as Max from "A Goofy Movie"), who declined the opportunity to reprise his role as DJ's ex-boyf Nelson.
With this year's Teen Choice Award for Choice Comedy TV Show under its belt, "Fuller House" has an eager audience awaiting the return of the Tanners.
But, hold on a dang second. Or a dang minute. Or two dang months because we still have that long to wait for this premiere.
This isn't the kind of show with major plot twists, so the odds we'll be flooded with torturous teasers leading up to December are slim. Guess it's time to sit quietly in a dark room with our hands folded in our laps until we hear that fateful "Holy Chalupas!"
See y'all then.
Citations: Fuller House Is Coming Back In A Big Way (Refinery29)