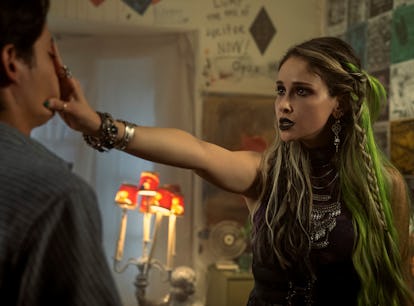 5 Freeridge Season 2 Theories After That Wild Cliffhanger
There are so many ways this could go.
Kevin Estrada/Netflix © 2022
Freeridge's arrival nearly two years after On My Block's finale brought fans back to the titular suburb of Los Angeles. The original series' Core Four were nowhere to be found in the new show, but the new set of high school friends still have the same old problems, from relationships to school drama to the RollerWorld money. However, the season's wild cliffhanger has fans spinning Freeridge Season 2 theories harder than anyone ever did in On My Block.
Warning: Spoilers for Freeridge Season 1 follow. Freeridge stars a new set of actors, but the series still seeded in carryover characters from On My Block, one episode at a time. Most were cameo appearances by secondary roles, like Eme Ikwuakor as Dwayne Turner, Jamal's dad, or minor characters from the Martinez family. The one major actor from the first series, Peggy Blow, who played Marisol, turned out not to be reprising her character but playing her previously unknown twin sister, Mariluna.
The series twisted On My Block's screws in the season finale, bringing back the two characters fans never wanted to see again, Sad Eyes and Joker, the remaining members of the Santos, who rolled into Mariluna's neighborhood, and mistaking her for Marisol, walked up with the intent to murder her for the RollerWorld money they assumed she was hiding.
With that shocker ending, fans are already wild for a Season 2. Here are the best theories of what may be to come.
All episodes of Freeridge Season 1 are streaming on Netflix