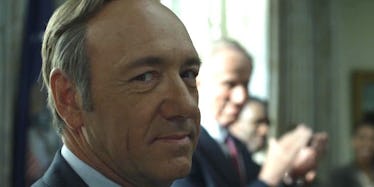 Frank Underwood Is America's "New Daddy" In Creepy New 'House Of Cards' Teaser
Netflix
If you thought Frank Underwood was going to settle down in Season 5, you're gravely mistaken.
House of Cards just dropped its final teaser for its currently streaming fifth season, which puts Frank's tyrannical confidence on display like never before.
In the new clip, President Frank Underwood walks by the Washington Monument and skips a coin in the Lincoln Memorial Reflecting Pool, nonchalantly informing us the founding fathers never planned for the cutthroat, fear-based political environment that put him in power, but he clearly did.
In a final display of chilling hubris, he tells us all to "Meet [our] new daddy."
Yeah... it's super unsettling! Check out the new teaser below.
Yikes! The new season of House of Cards was just released in its entirety on Netflix on Tuesday, and it picks up where last season leaves off: Frank and Claire seemingly on the same page once again, and declaring war against a foreign terror group.
The final teaser comes a month after Netflix released the full trailer for Season 5, which gave fans a good idea of just how chilling the new season is going to be. In that trailer, we see Frank laying out his plans to stay in office much longer than the eight years that is legally allowed, hinting at a shift from president to a dictator or even emperor.
Check out the full trailer for Season 5 below.
The trailer also shows us Frank's sexuality will finally come up again as a plot point this time around, as we see a quick flash of Frank appearing to get intimate with another man in the trailer.
Fans of the show know the only real time that Frank's bisexuality was addressed was in a Season 2 episode in which he invites his bodyguard Meechum to engage in a three-way with himself and Claire. The past few seasons have remained silent on deepening our understanding of Frank's sexuality, but it looks like we're going to get some more info this season.
Season 5 of House of Cards is streaming on Netflix now.