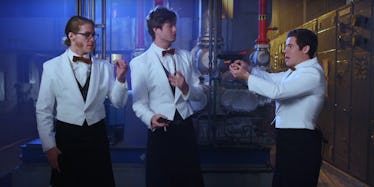 'Workaholics' Trio Combine Drugs, Guns And Goofs In New Netflix Movie Trailer
Netflix
It's not over just yet, "Workaholics" fans!
Although the long-running Comedy Central series just wrapped up its final season earlier this year, the trio behind the show is together again for a "Die Hard" inspired comedy, and the first teaser for the movie just dropped.
Though the 30-second spot doesn't really give us any plot details about the new Netflix flick, called "Game Over, Man!," it does ensure the wacky, hyperactive chemistry between Blake Henderson, Anders Holm and Adam Devine that made "Workaholics" a hit is still very much at work.
In the short teaser, we see the three dudes dressed in white suit coats (Are they waiters?) as they light up joints with gun-shaped lighters. Or at least Blake and Anders do... Adam finds out the hard way that he actually has a real gun!
The bit is pretty funny, but probably the most eyebrow-raising thing about the teaser is the date announcement: April 20 (The weed day, get it!?), 2018! Yeah, it's a full year away from being released, so we're going to have to wait a while before seeing it.
I guess Netflix decided to release a teaser now to capitalize on the recent "Workaholics" finale and Adam Devine hosting the MTV Movie & TV Awards over the weekend, which is actually a pretty smart move.
But "Game Over, Man!" definitely sounds like it will be worth the wait for "Workaholics" fans, as it seems like it's going to be adding an action-movie twist to the show's basic goofy surrealism formula.
It's going to be about three friends who have finally found someone to finance the video game they've developed, but then the financier gets kidnapped by terrorists.
The movie was described to the Hollywood Reporter as "'Die Hard' in a hotel," a movie that Blake, Adam and Anders have spoofed on "Workaholics" before. And even more exciting: Seth Rogen is on board as a producer.
"Game Over, Man!" will premiere on Netflix on April 20, 2018.