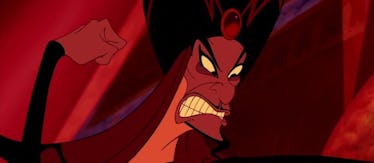 Who's Playing Jafar In The Live-Action 'Aladdin'? Here's What We Know
Disney/YouTube
Hey now, hey now, Disney fans, every day that passes we get closer and closer to the live-action version of Aladdin finally hitting theaters and I, for one, cannot wait. There has been so much hype surrounding Guy Richie's live version of the animated classic, especially after the success of Beauty and the Beast earlier this year. As part of the excitement, it seems like every day we get new information about the reboot, but one major question that we all still have is: Who will be playing Jafar?
We've known for a while relative newcomers Mena Massoud and Naomi Scott will play the two main characters, and Will Smith is bravely taking on the role of Genie, but all we've heard so far about who will play the devilishly evil Jafar are rumors. The Daily Mail reported Tom Hardy might end up landing the role of the villain, which people are NOT happy about because it severely whitewashes a blatantly Middle-Eastern character and, in my opinion, strips the film of its cultural ethos.
With that in mind, let's take a closer look at the actor who might *potentially* be cast as Jafar. Here are a few things you should know about Tom Hardy.
1. He is of British and Irish descent.
The English actor was born in Hammersmith, London to parents Elizabeth Anne (Barrett) and Edward Hardy.
2. He is no stranger to acting.
In fact, Hardy has acted in many films and TV series. He's currently starring in Christopher Nolan's World War II film Dunkirk. You might have also seen him in films like The Dark Knight Rises, Mad Max: Fury Road, and Inception. He was nominated for an Academy Award for his supporting performance in 2015's The Revenant.
3. Hardy is married to Charlotte Riley, a fellow British actress.
Riley is his Tom's second wife. The two were engaged in 2010 and married in 2014.
4. He is also a father.
The actor has two kids: a son, Louis, born in 2008 with his then partner Rachel Speed, and a second child, born in 2015, with his current wife Charlotte.
5. Hardy has battled addiction in the past.
Hardy has been open about his past addiction to crack-cocaine, even telling Daily Mail "I would have sold my mother for a rock of crack." Thankfully for the actor and his family, he has been sober for 12 years now.
For now, that's all the major info. we have for you. I'm sure we'll learn more as casting news continues to develop for Aladdin. Let's just hope, despite his amazing talent, Tom decides to sit this one out and make way for an actor of Middle-Eastern heritage.