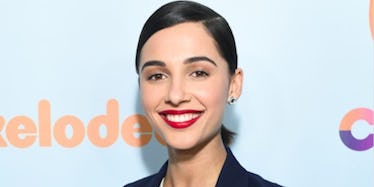 5 Things To Know About Disney's New Jasmine, Naomi Scott
Frederick M. Brown/Getty Images
It's officially official, folks! After all the hype surrounding the upcoming live-action version of Aladdin, Disney has finally cast the three of the four most important roles (there's still no *confirmed* word on who will play the snakey-est villain ever, Jafar, and I'm gonna assume the magic carpet will be CGI and not a real actor).
Mena Massoud, Naomi Scott, and Will Smith have signed on to play Aladdin, Jasmine, and Genie, respectively. Obvi we're pumped to see these characters literally take on a whole new world as they make the leap from animation to live-action, but, naturally, we're curious about the two new(ish) actors playing Aladdin and Jasmine.
Since we've already talked about our Aladdin, Mena Massoud, it's time now to talk about our newest Disney princess – the beautiful, talented Naomi Scott.
Here a few things you should know about Scott before she hits the big screen as Jasmine next year.
1. She is of Gujarati Indian and British descent.
Naomi's mother is from Uganda by way of Gujarat, India, and her father is from England. There has been some backlash surrounding her casting since Princess Jasmine is of Middle-Eastern descent and Naomi is only half Indian (really not close LOL).
2. This isn't her first acting gig; you may recognize Naomi as the Pink Ranger from the Power Rangers movie.
Scott was cast as Kimberly (Pink Ranger) in 2015 and Power Rangers hit theaters earlier this year in March.
3. She's also been a Disney starlet before.
In 2011, Scott was in the Disney Channel Original Movie Lemonade Mouth, and she also starred as Megan on the British Disney Channel show Life Bites.
4. Scott is not just an actress, she is a musician, as well.
The singer-turned-actress was initially discovered by Kelle Bryan of the band Eternal. You can find her EP Promises on iTunes and all major streaming services if you wanna decide for yourself whether or not she's got the chops to hang with Emma Watson.
5. The 24-year old actress is married to UK soccer player, Jordan Spence.
The two began dating in 2010 and were married in June 2014. Jordan plays for Ipswich Town.
For now, that's all the goods we got. I'm excited to watch the new Aladdin project develop, though, and learn more about the newest additions to the Disney Hall of Fame (this is a fictional place made up by me, but I'd like to see it happen if any Disney big whigs read this).