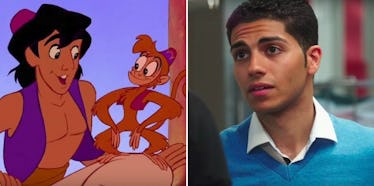 6 Things To Know About Disney's New 'Aladdin,' Mena Massoud
Disney/TeenNick
Disney has finally announced the cast for the new live-action Aladdin, and I am so ready. I'm really loving that all my favorite childhood movies are being remade and starring amazing actors. What a time to be alive!
Will Smith being cast as Genie caught a lot of praise, but what about our Aladdin? Mena Massoud has a big vest and fez to fill.
Here are six things you should know about Massoud to get better acquainted with the newest Disney prince.
1. He's Egyptian-Canadian.
Massoud was born in Egypt, but grew up in Toronto, Canada. Reportedly, Disney struggled through the casting process to find leads for this Guy Ritchie film. I think Massoud will make a fab Aladdin.
2. There won't be an Aladdin romance IRL.
There will be no on-set romances to look forward to. Massoud's gorgeous co-star, Naomi Scott, is married. She's been off the market thanks to soccer player Jordan Spence since 2014.
3. Massoud is new to the acting scene.
Massoud scored his first role in 2011. He had a very small role as an Al Qaeda operative in the show Nikita. He then landed a much bigger role in 2015 as Jared on the TeenNick series Open Heart.
4. He has another big role coming up.
Massoud is scoring acting gigs left and right. Massoud has agreed to star in the Amazon TV original Tom Clancy's Jack Ryan. Big names like John Krasinski are also signed on for the show. Massoud will play a character named Tarek Kassar.
Tom Clancy's Jack Ryan is set to premiere sometime in 2017, so we'll be able to check out this series sooner than later.
5. Robin Williams inspired Massoud.
While Will Smith will make an amazing Genie, it will be almost impossible to top Robin Williams in the 1992 animated movie. During an interview with The Hudsucker, Massoud named Williams as the actor who impacted him the most. Massoud said,
Robin Williams in everything he did. He was an incredibly well-rounded actor but I grew up on his role in Mrs. Doubtfire. That role by itself is very well-rounded and he goes through an amazing journey in that movie. I think it's very underrated.
6. He looks good shirtless.
This is important to know. His Instagram is filled with workout pictures, and he is looking mighty fine for his upcoming roles.
This may be Massoud's first big role, but he has huge star potential. How will I be able to wait for Aladdin to come out now? Not fair.