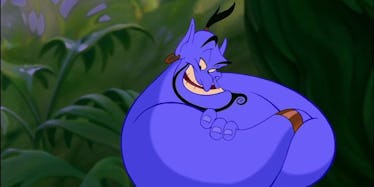 Disney Finally Casts Its New 'Aladdin,' And People Are Freaking Over The Genie
Disney
Disney's live-action 'Aladdin' reboot finally has its stars! Disney announced at its fan convention, the D23 Expo, that the much-anticipated film had finally found its stars after much back ad forth and even controversy.
Disney announced Saturday that the studio had cast Canadian actor Mena Massoud, who currently stars on Amazon series Jack Ryan, in the title role of Aladdin, according to E! News. The casting came after reports that Disney had been experiencing difficulty finding a Middle Eastern or Indian actor who could sing and act to fill Aladdin's famous vest-and-fez combo. The reports led Twitter to raise a skeptical eyebrow and point out the plethora of options for the role.
The announcement of who will play the official Hottest Disney Prince came alongside confirmation of Power Rangers star Naomi Scott as Princess Jasmine, and — wait for it — Will Smith as the Genie.
There had been speculation for weeks that The Fresh Prince would take over the iconic Robin Williams role, but official confirmation only came on Saturday. The rumors drew mixed response, with some people really into it, and some... not.
With the announcement on Saturday, some people were thrilled to have the rumors confirmed.
Some people were just, "meh" about the whole thing.
And some were way more upset about the casting of Aladdin himself.
After the controversy around casting the lead, many people suggested their own picks, and apparently some of them got really attached.
And some people were juuuuuuuuust fine with it all.
Twitter, do you need some water? You're looking kind of thirsty.
There was also already controversy around the racial and ethnic identities of the leads. 
Some are upset that there isn't more Arab representation in a movie whose opening number is called "Arabian Nights." Scott is half-Gujarati, Massoud was born in Egypt, and Smith is, as we know, from West Philadelphia. 
Prior to the casting announcement, it was reported that Disney was looking for a Middle Eastern or Indian actor, by preference, to play the lead. Filming is expected to begin in August.