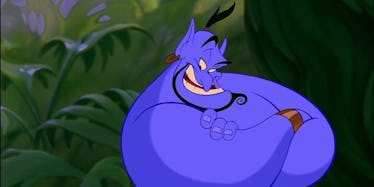 Will Smith May Be The Genie In 'Aladdin' And Twitter Is At War Over It
Disney
"Aladdin" is hands down the best Disney movie. Don't @ me, because you know it's true.
Even though Jafar is a little creepy and looks like the cartoon character version of Kim Kardashian, "Aladdin" has some of the greatest characters created: Abu, Jasmine and the Genie.
Abu is great because he's this little monkey who wears that cute hat and begs for cash. Jasmine is cool because she's hot and talks to tigers. The Genie is bomb because, well, ROBIN EFFIN' WILLIAMS.
If you haven't heard, "Aladdin" will be turned into a live-action film. The characters will remain the same but there will be new actors cast into these major roles.
It was reported on April 20 that Will Smith may be cast as the Genie and, obviously, the internet lost its shit.
The "Collateral Beauty" actor will have big shoes to fill, but it looks like many people are in his corner. We're rooting for you, Smith!
Fans went to Twitter to share their excitement about the news. Many people gave Robin Williams a shout out (RIP) but were hopeful Will Smith could live up to the role.
ALSO LIKE, LET'S ALL GET PUMPED ABOUT THIS NEW MOVIE. Live-action "Aladdin"? Yes please.
There were a couple of haters (are you even surprised?) who weren't too happy about the potential casting decision.
So, a bunch of people expressed their disappointment with the choice. Like this guy.
BUT DON'T FREAK OUT YET, HATERS. Nothing is set in stone. All we know is Guy Ritchie will direct the film and Will Smith is just being CONSIDERED for the role.
Apparently, if Will Smith says no, they're also thinking about Gabriel Iglesias as an option. I guess we'll have to wait and see what happens!
In the meantime, you can find me at my desk eating sandwiches (yes, multiple) and singing "A Whole New World" until my co-workers tell me to fuck off.
What? It's bologna. Bologna is good.
Citations: Will Smith May Play Genie In 'Aladdin' (Refinery 29)