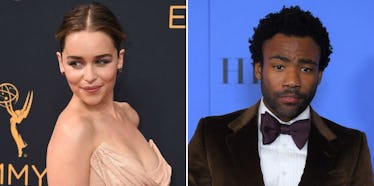 Khaleesi And Donald Glover Hang With Chewbacca In First Pic From Han Solo Movie
REX/Shutterstock
This cast photo from the upcoming Han Solo spinoff is easily the best "Star Wars" content since "The Force Awakens."
(Sorry, "Rogue One," but it's true.)
In case you didn't know, yes, this "Star Wars" spinoff film about a young Han Solo is happening, and yes, the cast is stacked.
On Tuesday, the official "Star Wars" Twitter shared a sneak peek at the yet unnamed film: a photo of the cast inside the Millennium Falcon.
You'll undoubtedly recognize a lot of faces here. (Did I mention the cast is stacked?)
Donald Glover — known for "Atlanta," "Community" and his rapper persona, Childish Gambino — will be playing the young version of Lando Calrissian, as we learned in October.
It looks like Lando's already got his signature 'stache at this point in his life.
"Game of Thrones" fans will recognize Emilia Clarke (aka Daenerys Targaryen, Khaleesi, Mother of Dragons). Clarke's role in "Star Wars" has not yet been revealed, and there's no word yet on if dragons can exist in space.
If you caught "Hail, Caesar!" in theaters last summer you might remember the young Western film star, Hobie Doyle.
Well, his real name is Alden Ehrenreich, and now he's Han Solo. It's hard to imagine anyone other than Harrison Ford filling that iconic leather jacket, but Ehrenreich seems to be pulling it off just fine.
Woody Harrelson will make his "Star Wars" debut as Garris Shrike, Han Solo's father figure. Jury's out on whether Han will be harder or easier to mentor than Katniss from "The Hunger Games."
Really intense television nerds and/or British people may also recognize Phoebe Waller-Bridge, the creator and star of two British series: "Fleabag" and "Crashing."
Earlier this month, Disney-Lucasfilm announced Waller-Bridge will take on the role of a CGI character in the new "Star Wars."
And let's not forget Joonas Suotamo, who appears in the cast photo in his full Chewbacca costume. (Or at least, we assume it's Suotamo under that fur.)
Also pictured in the photo are directors Phil Lord and Christopher Miller, and not pictured is "Westworld" star Thandie Newton, whose role is not yet known.
With a cast like that, the new "Star Wars" is bound to be lit. Or should I say... lit-saber?
(No. I shouldn't say that. Apologies.)