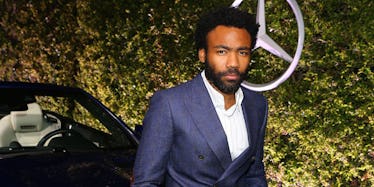 Donald Glover Officially Cast As Lando Calrissian In 'Star Wars' Spinoff
REx/shutterstock
Welcome to the "Star Wars" family, Donald Glover.
Disney, who is in the process of rebooting everyone's favorite franchise set a long time ago in a galaxy far, far away, made a massive announcement on Friday that they would be adding one huge addition to the "Star Wars" universe.
I take that back. It's not really an addition to the universe, but more of a new take on one of the series' most memorable characters.
I'll let the most exciting tweet of all time sum it up:
YUP! Donald Glover, creator of the runaway FX hit "Atlanta" and former mainstay on "Community," will be taking over the reigns from Billy Dee Williams in the yet-to-be-named, stand-alone Han Solo movie hitting theaters in 2018.
In a press release, the movie's directors Phil Lord and Christopher Miller wrote,
We're so lucky to have an artist as talented as Donald join us. These are big shoes to fill, and an even bigger cape, and this one fits him perfectly, which will save us money on alterations. Also, we'd like to publicly apologize to Donald for ruining Comic-Con for him forever.
Glover is slowly solidifying himself as a driving force in Hollywood.
"Atlanta" has arguably more buzz than any other show on TV at the moment -- sans maybe "Westworld"... and "Rob and Chyna" -- and this news comes weeks after it was announced Glover would be joining Marvel's cinematic universe in the next "Spiderman" movie.
Previously, Glover landed a medium-sized part in the Oscar-nominated feature "The Martian," and his album Because the Internet, which he released under his rap alias Childish Gambino, received a Grammy nomination.
The Internet is appropriately freaking out over this news.
Donald will be joining Alden Ehrenreich, who was already cast as Han Solo earlier this year. Jon Kasdan, Lawrence Kasdan and George Lucas are signed on as screenwriters for the project.
GO GET IT, TROY!
Citations: DONALD GLOVER CAST AS YOUNG LANDO CALRISSIAN IN UPCOMING HAN SOLO STAR WARS STAND ALONE FILM (StarWars.com)