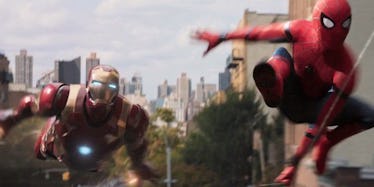 Here's Why You Didn't See This 'Spider-Man: Homecoming' Trailer Shot In The Movie
YouTube
So you've seen the new spider-baby movie, you loved it, and you want to marry and/or adopt Tom Holland depending on your age. Now you're left with just one lingering question: Where was that Spider-Man: Homecoming trailer scene of Spider-Man flying with Iron Mans in the movie?
You may recall in the official trailers for Spider-Man: Homecoming there are some scenes of Peter Parker in full Spider-Man costume swinging through the air while a fully-costumed Iron Man flies next to him. It's an epic shot that definitely got fans pumped for the film. But if you're sitting in theaters, waiting for that shot to come, don't hold breath — because it never comes.
While it's common for scenes in trailers to not make it to the final cut of the film, this Spider-Man case is a special one, because Jon Watts revealed that this scene was actually manufactured specifically for the trailer.
In an interview with Screencrush, Watts explained how and why that shot was manufactured. He said,
I think what happened was in the very first trailer they wanted a shot of Spider-Man and Iron Man flying together. And they were going to use something from the Staten Island Ferry [scene], but it just didn't look that great — the background plate, because the Staten Island terminal is a very simple building. It almost looks like an unrendered 3D object. So I think I was like 'Let's just put them in Queens. Let's use that as a backdrop.' Because we couldn't just create a whole new shot, so let's just use one of these shots of the subway; put them in there. I feel a little weird that there's a shot in the trailer that's not in the movie at all, but it's a cool shot. It's funny, I forgot that we did that.
So while that shot of Spider-Man and Iron Man flying through the air was shot for the film, it was never shot with the Queens backdrop — that was purely for trailer hype.
There's one other shot fans saw in trailers that wasn't actually part of the film — that shot of the full-costumed Vulture descending down on the camera in what appears to be a hotel lobby, which was fans very first look at the Vulture costume.
Watts explained this too, saying,
The hotel atrium shot was originally created for Comic-Con, for like a sizzle reel before we had really shot anything; we had shot like two weeks of footage or something. That was never meant to be in the movie. But I did use that angle for Vulture's reveal at the beginning of the movie; Vulture's hovering, swooping towards the camera like that. I used that shot, it's just no longer in an Atlanta hotel atrium.
So now you know! Marvel tricked us just a little bit to get us to the theaters, but at least the movie was worth it, right?