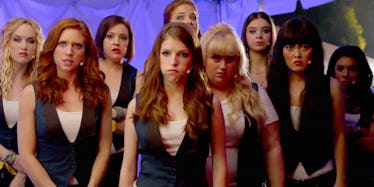 The First Photos From The Set Of 'Pitch Perfect 3' Are Finally Here
Gold Circle Films
THEY'RE BACK! Sorry, I mean, THEY'RE ACCABACK!!!!
It's been nearly five years since The Barden Bellas made their way into our hearts.
The rag-tag Bad News Bears of the acapella universe took over the college circuit in 2012's "Pitch Perfect," taking down their male counterparts, The Treblemakers, in the process.
The team then returned in 2015, opting this time to take over the world stage in "Pitch Perfect 2."
Thankfully, their story doesn't end there. The Bellas are officially back for "Pitch Perfect 3," and although we don't know much about the movie, photos from the set were released today, and they're acca-credible.
Anna Kendrick made sure to share a cast pic of her, Rebel Wilson and the rest of the team on her Instagram.
Elizabeth Banks, who plays the role of Acca-Bud Selig in the film (this is a pretty deep-cut baseball reference I've put into an article about an acapella movie. I'd be shocked if more than four people reading this understood the joke), also posted a shot from the set.
Check out Brittany Snow in the corner!
Kelley Jackle posted a picture of her and the cast holding up three fingers in honor of the upcoming movie.
Brittany Snow got to spend some quality time with Kenny G during the table read.
It's not all tiny watermelons and tuning whistles, though -- an acapella phrase I just made up that I assume will be very popular in colleges going forward.
There is some sad news with all of this.
As reported a few weeks ago, The Treblemakers will not be making an appearance in "Pitch Perfect 3."
Skyler Astin posted to Instagram in December that the team would not be making their return, saying the movie's creators have taken the project in a Treble-less direction.
"Pitch Perfect 3" is set to hit theaters on December 22 of this year. So we'll just have to acca-wait to acca-see how this acca-plays out.
Citations: Pitch Perfect 3 Stars Are Back on Set See the First Photos (Entertainment Tonight)