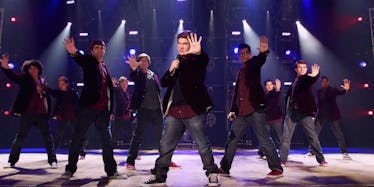 Time To Freak Out Because The Treblemakers Will Not Be In 'Pitch Perfect 3'
Gold Circle
ACCA-SCUSE ME?!?!?!
Through two movies, The Treblemakers have been the villains of the "Pitch Perfect" universe.
They're sort of like the Cobra Kai Dojo of making music with just your mouth. (I put the over/under on people who read this story who would understand that joke at about 53 percent).
Sadly, though, their run as the Barden Bellas' sworn rivals has probably come to a close.
According to an acc-stagram (OK, the "acca" thing doesn't work with every word. Lesson learned) by Treblemaker star Skylar Astin, they will not be a part of "Pitch Perfect 3."
Astin captioned the post,
‪Yes. As of now, the Trebles and I won't be in the third 'Pitch Perfect' movie. They seem to be taking the story in a different direction.
HOW DOES ONE EVEN BEING TO ACCA-CEPT (and we're back!) THIS GROUND-BREAKING NEWS?!?!
For starters, are Rebel Wilson and Adam DeVine just not gonna be a romantic storyline in one of the upcoming movies?!?! So we're just gonna abandon their 'ship plot?!? Cool. Real cool.
Also, Skylar Astin specifically said he wasn't going to be in the movie so *flush sound* there goes his romantic plotline with Acca Kendrick (and we're back to the "acca" thing not working again).
Soooo, thanks for RUINING EVERYTHING, Hollywood.
If there is one potential saving grace through this straight-up betrayal, it's that Skylar said "as of now."
It's possible the screenwriters could save The Treblemakers or at least put Skylar and Adam back in the movie to finish the story they started.
I wouldn't count on it, though. If it happens, it happens, and I strongly suggest you write to your local councilman to make sure it happens.
If not, we'll all just have to get used to this post-Treblemakers world we were all just shoved into.
So 2016 has acca-fficially (boom, back to killing it with this "acca" thing) gone too far.
Citations: SHOCKER Skylar Astin Reveals He and The Treblemakers Are Being Erased From Pitch Perfect 3 (Seventeen)