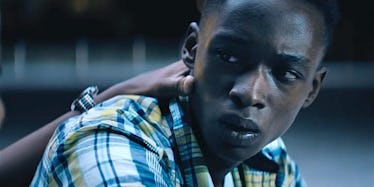 'Moonlight' Star Ashton Sanders Reveals What An Oscar Would Mean To Him
A24
All eyes are on the academy this weekend as we wait to see which 2016 film takes home the coveted honor of Best Picture.
For many, this year is a chance for the Oscars to redeem itself in the wake of the #OscarsSoWhite campaign — by giving that honor to Barry Jenkins' moving film about a black man discovering his sexuality in a rough Miami neighborhood, "Moonlight."
But for Ashton Sanders, the 21-year-old actor who played the film's lead character, Chiron, in his teenage years, it's enough to just have his film nominated.
That's not to say Sanders doesn't want the Oscar, of course.
I recently got the chance to speak with Sanders about his character, the film and what an Oscar win would mean to him. He told me the entire experience has been a dream come true, and of course, he's honored just to be nominated.
But he said a Best Picture win would be "the cherry on top of the cake."
"If we do win," Sanders told me in a phone call, "I can't even tell you how I'm going to feel. I'm definitely going to cry. This was a little seed that we planted and now it's this gigantic tree."
But with the looming presence of "La La Land" — Damien Chazelle's modern take on the old Hollywood musical, which has so far swept nearly every award show this season —  many who were rooting for a film like "Moonlight" are resigning themselves to another year of white films winning all the awards.
For Sanders, that's OK.
"If it doesn't win, that's totally fine," Sanders said, "We did our jobs as the artists. We put it out there. It's the people's jobs to react."
And the people certainly have been reacting, as Sanders went on to say, with praise for the film coming in from top film critics and casual viewers on Twitter alike — particularly from black audiences.
We did our jobs as the artists. We put it out there. It's the people's jobs to react.
Sanders told me,
It warms my heart to have that much love for something that you love so much. It makes me want to continue to go on this path and continue to make art that people are influenced by, and to continue to tell real stories.
The story felt particularly real to Sanders, who like his character Chiron, watched his mother struggle with drug addiction.
Sanders opened up about the experience in an exclusive clip shared with me from Lionsgate Home Entertainment that will be on the upcoming February 28 release of the "Moonlight" DVD.
In the clip, Sanders says,
I was able to relate to this character on many levels, one particularly being that my mother went through drug addiction for the first 10 years of my life.
Sanders told me over the phone that this personal connection to Chiron made the scenes he had with Naomie Harris, who is nominated for Best Supporting Actress for her role as Chiron's mother, Paula, particularly difficult to film.
He said,
Those scenes with Naomie Harris specifically were some of the most emotionally draining scenes I've ever had to be in. It was amazing at the same time, to be able to get out all of this built-up stress and emotion through my art. It's super special to me.
Despite the subject matter perhaps hitting a little close to home, Sanders also said his family has been extremely supportive of him and the film.
"It's a story that's not told often from a real black perspective," he said, "so they respected it."
Even if it doesn't win Best Picture, Sanders emphasized to me the importance of "Moonlight's" mere existence, to get that representation of black stories out into the world.
He explained,
It's important to see representation of yourself on screen. Something like 'Moonlight' is really important. It's literally using the art within the film to change people's mindsets... I think, especially now, it's important to use art like that.
As for what he's looking forward to most from his first Oscars on Sunday, Sanders told me he can still hardly believe he's going at all, much less have expectations for it.
"It's the Oscars. The Oscars! This is a bucket list dream. I would have never even thought I would have been going at 21," he said, adding, "Dreams are just really coming true."
"Moonlight" will be available on Blu-ray, DVD, and Digital February 28, and catch Ashton Sanders and the rest of the "Moonlight" cast at the Oscars this Sunday at 8:30 on ABC.