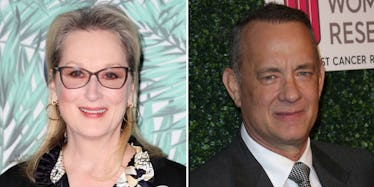 Meryl Streep And Tom Hanks' Political Movie Is Exactly What America Needs
REX/Shutterstock
Leave it to two of the most celebrated movie stars alive to bring us the most timely movie ever for our current political situation.
Meryl Streep and Tom Hanks are teaming up with Steven Spielberg to make a movie all about a president attempting to silence journalists who are trying to report the truth. Sound familiar?
The new movie is going to be called "The Post."
It will tell the true story of the infamous leak of the Pentagon Papers in 1971 and the Nixon administration's attempts to silence the Washington Post, along with the New York Times and the other news outlets that were publishing the Department of Defense documents that detailed the United States' history and future plans of military involvement in Vietnam in the midst of the Vietnam War.
Tom Hanks is lined up to play Washington Post Editor Ben Bradlee, and Meryl Streep is in negotiations to portray the Post's publisher, Kay Graham, according to Deadline.
Though Streep and Hanks have previously worked together on 2008's "Mamma Mia!" -- which Streep starred in and Hanks executive produced -- this will mark the first time the two beloved actors will co-star in a film together.
It will also be the first time Streep will act on-screen in a Spielberg picture (she had a small voice acting part in 2001's "A.I.," and will narrate his upcoming documentary "Five Came Back"). Obviously, Hanks has a long history of working with Spielberg.
Meryl Streep's casting in the project is also notable in respect to the subject matter.
Clearly, the movie brings up themes America is currently grappling with under President Trump, who has openly derided and discredited credible news sources such as the Washington Post and the New York Times.
Streep has voiced her distaste for Trump in a speech at the Golden Globes recently, and the reality show host-turned-president responded by calling the three-time Oscar winner "overrated."
Tom Hanks has also made his disapproval of Trump known recently, although less publicly than his soon-to-be co-star.
Just last week, he sent a message to the White House urging the new administration to value truth — likely a jab at the weird obsession with crying "fake news" at unfavorable reports. He's also voiced his concern for Trump's lack of political experience and his disgust at the infamous "pussy grabbing" audiotape.
Making "The Post" sounds like a brilliant move: telling a super engaging story of our political past that also has a huge amount of relevance today. I wonder if Trump will buy a ticket...
Citations: Steven Spielberg, Tom Hanks & Meryl Streep Team For Pentagon Papers Drama 'The Post' (Deadline)